It takes a village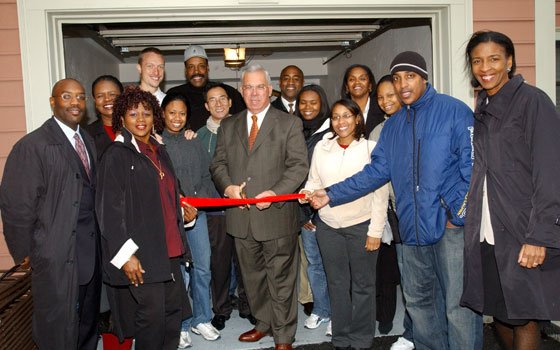 Roxbury-based Crosswinds Enterprises has quietly had an enormous impact on Boston neighborhoods by building quality housing and training construction workers for professional careers.
And there they were, the most unlikely of partners in the construction business, standing with Boston Mayor Thomas Menino near the corner of Martin Luther King Boulevard and Washington Street to cut a ribbon for the ceremonial opening of Washington Commons, a $13 million mixed income housing development in Roxbury.
For Arnold Johnson and George Chin, business partners since 1985, the Washington Commons development represented another mark in their growing list of achievements. Quietly, they have built Crosswinds Enterprises into a community-based company that prides itself on delivering quality services — one development at a time.
"For many companies it is strictly business," Chin explained. "For us it is keeping the balance between our company's success and the prosperity of the community we live and work in."
From the very start, their goal was to make a difference in communities of color, not just in terms of its infrastructure but also its people. They have trained more than 100 people over the years, preparing them on basic carpentry skills to project management — and everything in between. During peak times, they will hire 20 full-time workers.
In the early days, the training programs were born out of necessity. As Arnold explained, they could find people who wanted to work. More difficult was finding workers who could meet their expectations for quality.
To meet that challenge, Crosswinds started offering after-work classes to employees and sub-contractors on obtaining construction licenses and various computer lessons.
The goal was clear. "We wanted to teach people to have careers, not just a job," Arnold said.
They know from first-hand experiences the value of having a mentor and proper training. Because there weren't too many people that they could ask questions, they were forced to learn the hard way — by making mistakes.
Arnold, a former basketball player at UMass-Amherst met Chin, a Chinese immigrant, while working on a construction project in Chinatown. They got to talking and before long, the two had teamed up as a joint-venture with Eddie Faria, a Cape Verdean man who has since left the company and moved to Atlanta.  
They had little money, not many construction skills and very few opportunities. All of that changed over the years.
Arnold and Chin bonded quickly. "We both like to learn and we both like to share," Chin said. "In all the years we have been together, we never had a problem. Everything I know I learned from Arnold. It all just came together."
As owners of a small fledgling company, they learned another invaluable lesson — the ability to sacrifice their personal needs for the advancement of the company. Over the years, both of them voluntarily took pay cuts in order to maintain adequate cash flow and necessary bank balances for bonding requirements.
It's been a long journey.
Arnold remembers the days when he and Chin would load up about 10 workers in the back of their  used van and drive to various construction sites to finish projects. Back then, Arnold recalls, working on a $1 million project seemed like winning a billion-dollar lottery.