'Sweet Life' for young singer and songwriter Whitlock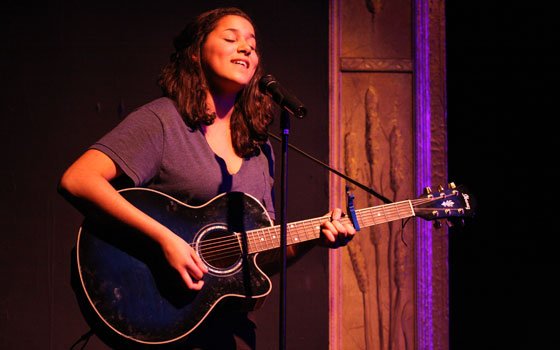 Maggie Whitlock may have started and stopped learning a number of musical instruments. What she has never given up on are singing and songwriting.
The Concord born and bred 17- year-old has been pursuing both of these loves over the years. Lately, Whitlock is developing her talents in a good place — namely the Cambridge School of Weston, where she has found "a strong music program."
Now she is making her theater production debut playing guitar and singing original songs in between short plays during Turtle Lane Playhouse's second annual Young Actors' Winter Festival.
Whitlock has been finding her way musically since her pre-teen days. With complete candor, she admitted that she took "piano lessons at 8 and stopped" and "studied guitar (at age 12) and stopped."
Still she continues playing the guitar and began writing her own songs about two years ago. Her teacher parents — a father she is "fairly sure has ancestors of Ethiopian descent" and a mother of Italian and Czech descent — are supportive. Her sister Tricia has already worked at the North Shore Music Theatre and now continues her involvement in musical theater performance at the University of New Hampshire.
While Whitlock's experience is as yet modest — "I've done a couple of open mics and a benefit for Haiti" — she does possess the kind of passion for singing and songwriting that a young musical artist needs.
Now Whitlock also has a special opportunity to demonstrate her ability as a singer and songwriter — namely being a part of the second annual Young Actors' Winter Festival. That opportunity came from festival co-conceiver (along with Regina Eliot-Ramsey) James Tallach, a two-time Independent Reviewers of New England (IRNE) nominee. Whitlock first met Tallach at Concord's Alexander Children's Theatre School, where he frequently served as director. "We're good friends," she declared.
Tallach has given Whitlock a chance to demonstrate her abilities and promise at the festival, where she sang and played guitar last Friday and will do the same this coming Friday.
Whitlock plays two songs between the first two plays of the Friday program — "Into the Woods" and "Family Archive." She opens with "I Found You," an original song she described as "preppy" and "a simple, happy, upbeat song. "
Her second number, the only one not her own, is "an Irish folk kind of song" called "Gold" from the romantic independent film "Once." After intermission, following a play entitled "League of the Unexpected," Whitlock performs her ballad "Star-Crossed"  a composition inspired by Shakespeare's "Romeo and Juliet" but "not necessarily sad." Between the second play "Time Bomb" and the closer "Double Date," she sings an original as yet unrecorded number called "Cover It Up." The title, she explained, refers to an impulse: "Let's rewind and pretend that we can stay in that moment."
"It's definitely ironic," she added.
Although Whitlock's range stretches from alto to soprano, she sings most of these numbers in mezzo-soprano voice. Two — "I Found You" and "Star-Crossed" — will appear on a CD entitled "Sweet Love, Sweet Life" that she began working on last summer.