A question of judgment
1/25/2011, 8:45 a.m.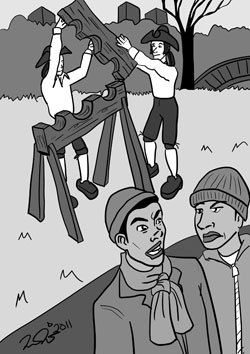 A question of judgment
In order to be effective, justice must have good judgment. The decision of the U.S. Attorney's Office to file additional charges of lying to the FBI against Chuck Turner shows a lack of that judgment. The former Boston city councilor has already been convicted and removed from office. It is unlikely that such a vapid new charge will influence the judge's sentence.
Turner appeared on the Boston scene almost 50 years ago, a young Harvard graduate full of fight for the interests of those who had long been ignored. With the passage of time, the fight relied more on rhetoric. And with the advent of old age and the inaccuracy of memory, even the rhetoric became sometimes unreliable.
Turner's testimony at his trial did not help his cause. Those who know him know that it would be uncharacteristic after decades of commitment for Turner to demand payment for a public service. His testimony sounded more like the onset of clinical confusion than merely the awkward avoidance of criminal liability.
It is a shame that Turner has already suffered so severely for little more than the frailties of aging which all of us who live long enough will one day come to experience.
Some surprising findings
Health disparities for African Americans have become a matter of national concern. The Centers for Disease Control and Prevention has just released its first CDC Health Disparities and Inequalities Report — United States, 2011 to analyze the impact of race and other social characteristics. While many of the conclusions are predictable, some others are surprising.
Since whites control the nation's wealth and hold the reins of power, many blacks assume that whites are immune from the anxiety and disappointment that plague the lives of African Americans struggling to survive. However, the report found that according to the most recent data, 83.5 percent of suicides were by non-Hispanic whites. Only 5.5 percent were committed by blacks who constitute 13.5 percent of the nation's population. The highest rate for suicides was by American Indian and Alaska Native adolescents and young adults.
The highest rate for drug induced deaths was also among whites. Prescription drugs now cause more deaths than illicit drugs. Nonetheless, the use of illicit drugs is still substantial and the report recommends the continuation of methadone maintenance programs.
Another surprise was the high incidence of infant deaths among blacks. The U.S. infant mortality rate in 2006 was 6.68 deaths per 1,000 live births. Black women had the highest infant mortality which was 2.4 times that for non-Hispanic white women. One of the causes of these deaths has been determined to be the high rate of preterm births. One of every five black infants born in 2007 was preterm compared to one in every eight or nine white births.
The adolescent birth rate in 2008 was highest for Hispanics. Their rate was three times higher than the rate for non-Hispanic whites, which was similar to the rate for blacks.
African Americans have special health problems with asthma, HIV infection, diabetes, high blood pressure and obesity. Solutions for all of these problems are aggravated by low income and inadequate education that places jobs with greater revenue out of reach.
Nothing is more important than health. The Bay State Banner publishes its "Be Healthy" supplement regularly to keep readers informed of common diseases and conditions and their remedies.