A forum for local voices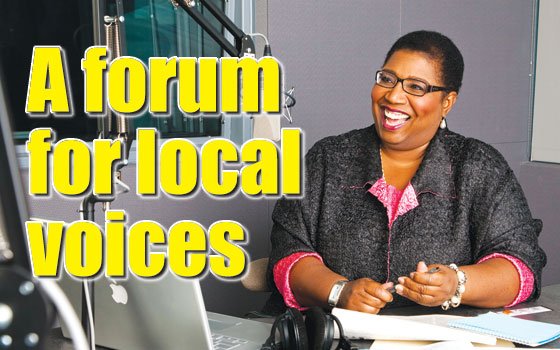 Award-winning journalist Callie Crossley is serious about airing different perspectives on her WGBH radio show
"The Callie Crossley Show" has been airing on WGBH-Radio since the station made the switch a year ago from classical music to news and information. The public radio station tapped Callie Crossley, a seasoned, award-winning journalist and commentator, to host the hour-long show starting at 1 p.m., Monday through Friday.
A Wellesley College graduate,  Crossley is a regular panelist on "Beat the Press" on WGBH-TV, a frequent commentator for the Fox 25 TV's Morning Show and the program manager for the Nieman Foundation for Journalism at Harvard University. She has won a national Emmy for her work on the "Eyes on the Prize" documentary on the civil rights movement, and nearly all of the top broadcast journalism awards.
In an interview to mark the first anniversary of her debut as a radio host, Crossley talked with the Bay State Banner about her show's focus on explaining local and regional news, bringing new voices on air and covering a mix of little-known stories, some on the lighter side.
How much radio work had you done before getting the opportunity to host your own show?
I've done a fair amount of 'guesting' on a variety of radio shows. Hosting is an entirely different experience. As a host, I have to be concerned about not only what you're saying, but also with what I'm saying, keeping track of time, making certain the conversation is flowing if there are several people involved, and making sure that you as a guest are well-served in getting out what you want to say. And what I want you to say — so people understand why I booked you in the first place. I substituted for Michel Martin [host of "Tell Me More" on National Public Radio] for a week two years ago. That's as close as I had come to the real hosting role.
What are you are trying to do with your show and what makes it different from other radio talk shows in Boston?
We're trying to embrace a variety of perspectives and bring in multiple voices. I know people say that all the time. But in truth, if you listen to different radio programs a lot, you're likely to hear the same voices over and over again. Because we are in Boston, these are often very interesting people, very knowledgeable people, and folks with special expertise. The usual suspects are quite good, so it's not wrong to book them.
But I also know those people represent the tiniest part of the population of folks in Boston and New England who are just as fabulous and interesting. I said during the very first discussion about doing the show that I wanted a lot of voices that have not been heard before, at least in this format. I want to make visible people who have a lot to offer but just didn't have the platform or forum. I know that we are doing a good job because many other shows have tried to rip off my regular contributors.