Javon "Yung Fresh" Martin
2/22/2011, 9:29 a.m.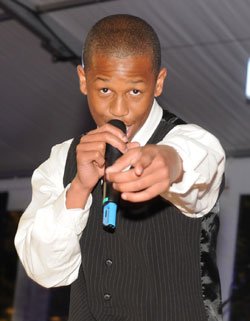 Javon "Yung Fresh" Martin
Javon "Yung Fresh" Martin, a member of Dorchester's Blue Hill Boys and Girls Club, recently became the Northeast region winner in the music tech category of the Club Tech Digital Arts Festival.
Martin will advance to the national competition to vie for the title in his age group, 13-15. The Digital Arts Festival is presented by Boys and Girls Clubs of America through its partnership with founding sponsors Microsoft and Comcast. It seeks to give club members an opportunity to engage in artistic expression through the use of technology in five categories: music, photography, design, movie animation and film.
The music tech category requires youth to remix a supplied audio clip using digital software to create a fresh new sound less than two minutes in length. "Studio Heat Remix," the name of Martin's winning project, was created in eight hours.
"Javon is just one example of how the club is enabling young people to follow their dreams, and we are extremely proud of him," said Rick Aggeler, music clubhouse director at the Blue Hill Club. "He has shown tremendous natural talent, but also has worked very hard to hone his artistic and technological skills."