Celebrate Black History:
2/16/2011, 12:43 a.m.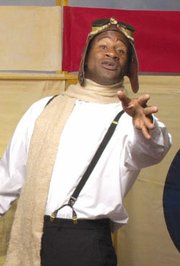 Mad River Theater Works Presents "John Henry," and "Wings of Courage," at Roxbury Center for Arts

Bing Broderick, Haley House Bakery Café
Mad River Theater Works comes to Roxbury with two stories of African American history and cultural heritage. The troupe performs "John Henry," on Saturday, Feb. 19 at 2 p.m. and "Wings of Courage," on Sunday, Feb. 20 at 2 p.m. These musical plays appeal to parents and children alike and are a perfect way for families to celebrate Black History Month together. For tickets, call 617-849-6322 or go to www.madison-park.org. The plays will be performed at Roxbury Center for Arts at Hibernian Hall, 184 Dudley Street.
Using storytelling, music and drama, "Wings of Courage," shows how African American combat pilot and adventurer Eugene Bullard's determination and perseverance helped him to overcome discrimination throughout his remarkable life
"John Henry" uses storytelling, drama and music to bring the story of an American legend to life. It is a tale that speaks to young and old alike and carries a strong contemporary parallel about the importance of our humanity in the face of changing technology.
About Mad River Theater Works
Mad River Theater Works of West Liberty, Ohio is a professional touring ensemble with roots deep in the flat farm country of the Midwest. The ensemble creates plays that combine music and drama to tell stories about people from the back roads and small towns of America. They often reach back into history to cast a new light on the personalities and events that have shaped our nation.
About the Roxbury Cultural Network
Roxbury Center for Arts at Hibernian Hall is a member of the Roxbury Cultural Network (RCN). The RCN is a collaborative of organizations in Roxbury dedicated to preserving and presenting the best of Roxbury's  history, art and culture. For details, go to www.roxburyculturalnetwork.org.