Mothers unite to harness grief into action, justice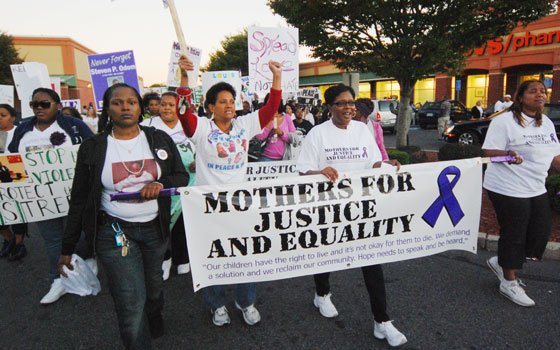 Mothers for Justice and Equality (MJE) held a kick-off rally on Oct. 8, marching from Grove Hall to Morton Street. Pictured here, holding the banner, (from l to r) are: Angie Smith, MJE Founder Monalisa Smith and Kim Odom. (Chris Lovett photo)


In the framed photograph on Sarah Flint's desk, James "Jimmy" Flint looks straight at the camera. He's a handsome boy, with smooth caramel-colored skin and close-cropped hair. It's summer, and the short sleeves of his polo shirt fit snugly around youthful muscle. He's not exactly smiling, but there's an openness in his face, an adolescent mix of vulnerability and defiance.
He is 15. The rest of summer, high school and life await.
But this is the last picture of Jimmy. He didn't live to see 16. On Aug. 20, 1981, he was stabbed by another teenager in a fight at Orchard Gardens housing development, and pronounced dead at the hospital that night.
His death left a wound that will never fully heal, one that for Flint — and for too many mothers before and after her — is ripped open each time another young person is murdered.
It's nearly 30 years now since Jimmy's death, but the killings go on with a regularity that can be numbing. Boston had 72 homicides in 2010. The vast majority occurred in Dorchester, Roxbury, Jamaica Plain and Mattapan. Seventeen victims were under age 21, including three 14 year olds.
Now Flint, recently retired from the City of Boston's Department of Neighborhood Development, is coordinator for a new group that aims to zero in on the root causes of violence while keeping a spotlight on the continued murders of Boston's youth.
Mothers for Justice and Equality (MJE) was founded last fall by Monalisa Smith, a vice president at Citizens Bank. Smith has long been an active force in the community, as a Dorchester native and as Citizens Bank's director of community investment. But she was jolted into a new kind of action when her 18-year-old nephew Eric Smith was shot to death on Sept. 2.
"When my family was dealing with it," she recalled, "people would ask me, are you okay? And I thought, 'No! I will never be the same.' That's the truth."
Smith couldn't rest. She said that murders of adolescents had somehow become perceived as the norm. "[But] it is not the norm," she said. "How can this be OK? If we even have a breath in our body, we have to do something. When children are on the street under white sheets while school buses drive by. Children go to school and someone's gone. That is just not OK."
She started making phone calls. She quickly gathered a team of mothers, including Flint; Merveline Chambers, mother of Ivol Brown; Kim Odom, mother of Steven Odom; and Tina Chéry, mother of Louis Brown and founder of the Louis D. Brown Peace Institute. She tapped area clergy members as advisors. She also brought in nonprofit executive directors such as Pam Ogletree of Children's Services of Roxbury, Mia Alvarado of Roxbury Youthworks, Inc., Ken Smith of YouthBuild Boston, Janet Collazo of La Alianza Hispana and Rev. June Cooper of City Mission Society.