District 7 campaign pulls crowded field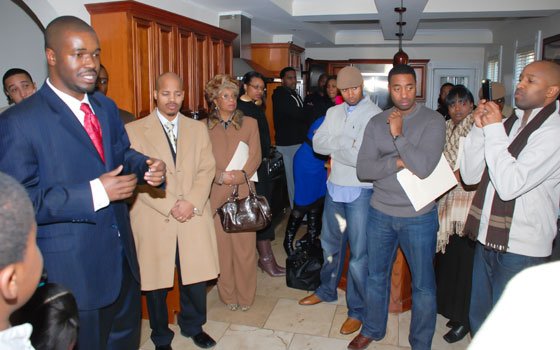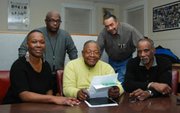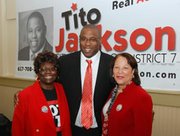 Among the seven candidates for the District 7 Boston City Council seat, the key issues are revitalizing the district's economic base, improving public education at underperforming schools and increasing public safety. Cornell Mills, the son of the former state Sen. Dianne Wilkerson, talks with supporters at a recent fund-raising event. (Tony Irving photos)


Haywood Fennell holds court with potential supporters.

Front-runner Tito Jackson recently received the endorsement of first lady Diane Patrick.
Roxbury voters will head to the polls next week to narrow the field of candidates seeking to replace ousted Boston City Councilor Chuck Turner in the District 7 seat.
Seven hopefuls will appear on the Feb. 15 ballot, but only two will qualify for the final election to be held on March 15.
The crowded preliminary contest includes some familiar faces as well as first-time candidates with considerable support.
Tito Jackson, the son of labor activist Herb Jackson, most recently served as Gov. Deval Patrick's political director and has already garnered a number of major endorsements in the contest. He finished fifth in the last at-large city council election.
Cornell Mills, the son of former state Sen. Dianne Wilkerson, has been working the district since the special election was called in the wake of Turner's conviction of federal bribery charges and ouster from the 13-member city council.
Rounding out the top tier of candidates are former state Rep. Althea Garrison, Natalie E. Carithers, Danielle Renee Williams, Roy Owens and write-in candidiate Haywood Fennel.
Jackson says he has a five-point plan to revitalize the district. That community-based plan includes growing local business, improving job training programs, increasing safety by fostering community forums on crime and neighborhood watch programs and creating more affordable housing.
Cornel Mills, 36, is a native of Boston. Seeing crime and violence as the top issues concerning the district, Mills wants to reinstitute the concept of community policing. "We've turned away from that," he says. "When it was successful in the nineties, it was because the community was at the center of it. There's more of a focus on the religious community and prosecutors taking over that fight. At this point, we need to find a way to get our community members, brothers, sisters, fathers, everybody involved in the policing efforts."
Recalling a recent visit to the Burke High School, he said he was surprised to learn that 60 percent of black and Latino youths are dropping out of that school.     "We need to do proactive intervention, as well as trauma and mental health counseling in the schools because most of the children in the community are directly and indirectly dealing with the violence issues of the community."
Mills said he wants to establish proactive training programs that will teach necessary skills. For example, he said, "If there is a huge windfall of jobs coming to this state, we need to figure out what the qualifications are and have a three to sixth month window to train people so that by the time the jobs get here they will be ready to go."