Bill T. Jones' 'Body Against Body' sold out ICA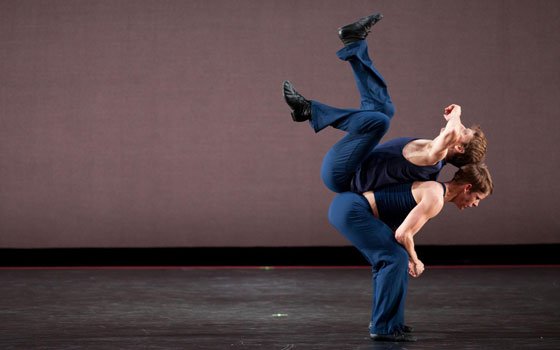 As a dancer and choreographer, Bill T. Jones finds the material of his artistry in the human body as it suffers, ages, loves, exults, labors and struggles — alone and with others.
The expressive power of the body propels his productions, including Broadway ventures such as "FELA!" which received the 2010 Tony Award for Best Choreography, and soon, "Super Fly" re-imagined as a musical.
The body in all its manifestations is the implicit subject of the works he creates as choreographer and artistic director of the Bill T. Jones/Arnie Zane Dance Company, which he founded in 1982 with his partner in dance and life, the late Arnie T. Zane. Recipient of a 1994 MacArthur Fellowship, Jones has developed the company's ambitious, evening-length collaborations with other artists that explore such themes as mortality, faith and racism in America.
Forty years ago, as young dancers and choreographers in New York City, Jones and Zane pared dancing down to the drama of body against body in their muscular, athletic duos. Repeating a series of seemingly ordinary movements with subtle variations and laced by quirky gestures, their dances were intimate games. Unadorned visual poems that evoked human striving and connection, the duos between the wiry 5'4" Jewish-Italian Zane and 6'1" African American Jones became landmarks of contemporary dance.  
The artistry of Jones and Zane was on display in its purest form this weekend at the Institute of Contemporary Art/Boston (ICA) in three sold-out shows. In a world premiere program aptly entitled "Body Against Body," the Bill T. Jones/Arnie Zane Dance Company recreated three of the pair's groundbreaking duets.
Guided by the company's rehearsal director Janet Wong, with costumes by Liz Prince, lighting by Robert Wierzel and music by Helen Thorington and John Oswald — all long-time collaborators of Jones  —  and performed by the company's terrific dancers, the two-hour program affirmed the timeless power of these early works.
Translating dances that originated as a dialogue between lovers into works that stand on their own, the new versions were far more than a look back.  
As part of the presentation, the ICA also inaugurated its fine new dance education program, "MAKE DANCE SEE." Events included the company's five-day residency at the Boston Arts Academy and pre-performance dance workshops for audience members as well as a panel discussion with Jones and the choreographers Karole Armitage and Elizabeth Streb.
The program opened and concluded with a Jones/Zane duet named for places north of New York City where the partners began their life together.
The evening began with "Monkey Run Road" (1979), staged here for the first time since Zane and Jones performed it more than two decades ago. Evoking the physical contrast between the original partners, the dancers were Talli Jackson, a tall, mixed-race man and Erick Montes, a Mexican of small stature.
Their differences contributed to the work's subtle dynamism and touch of humor. In black jumpsuits that resembled work attire, the two men went about doing things that didn't make much sense with great care. Light followed them as they repeatedly pushed a tub-size wooden crate around the darkened stage, paused, and arranged themselves into a pose. In one, Jackson looked down on Montes, who stared straight ahead. In another, they resembled a Pietà painting, with the supine Montes on Jackson's lap. Their brief reunions suggested moments of equipoise in a relationship.