The former Obama Green Czar opines on the state of 'Carbon Nation'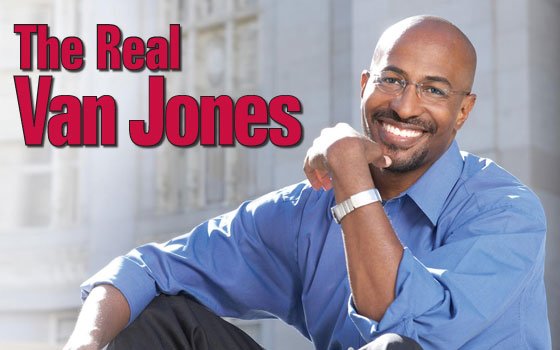 The former Obama Green Czar opines on the state of 'Carbon Nation'
Anthony "Van" Jones and his twin sister, Angela, were born on Sept. 20, 1968 in Jackson, Tenn. to Loretta and the late Willie Jones, a teacher and principal, respectively. Jones  graduated from the University of Tennessee with a bachelor's degree in communications and political science, before earning a Juris Doctor at Yale Law School.
A clean energy pioneer and author of the eco-employment best-seller "The Green-Collar Economy," he was invited by the Obama administration to serve as "Green Czar." But Jones decided to resign from the post in the wake of a relentless, right-wing smear campaign which accused him of everything from being a Communist to signing a petition suggesting that the Bush administration had knowingly permitted the terrorist attacks on 9/11 to transpire.
Jones is now teaching at Princeton University, where he holds a joint appointment at both the center for African American Studies and the Woodrow Wilson School of Public and International Affairs in the Program for Science, Technology and Environmental Policy. He is also serving as a Senior Fellow at the Center for American Progress and as a senior policy advisor at Green for All.
Here, he talks about all of the above, and about his appearance in "Carbon Nation," a cautionary documentary about the consequences of climate change. The film opens in theaters in New York City on Feb. 11, and will open elsewhere around the country later in the month and in March before becoming available on DVD in April.       
What interested you in appearing in "Carbon Nation?"
Back in 2007, I met this white guy [director Peter Byck] with a lot of hair and a video camera, at a conference that I happened to be attending for the launch of an organization called Blacks in Green. I had never heard of him and Peter had never heard of me. We just started talking; he liked what I had to say, so he asked me if I'd be willing to be in this documentary he was doing about carbon pollution. I said, "Sure!" It was kind of a no-brainer.   
Before you got interested in environmental issues, you started the Bay Area Police Watch, a San Francisco-based organization with an emergency hotline and a lawyer referral service for victims of police abuse. What inspired that?
I saw in the Nineties that we were increasing police power with get tough policies and three  strikes laws, but without additional oversights. I had this radical idea that the police should obey the law. My view was that any human system without adequate checks and balances will tend toward corruption and abuse. That's why you have meat inspectors. Not because you hate butchers, but because of an understanding of human nature. Similarly, I felt like you gotta have some oversight of law enforcement. And though the rampant racial injustices throughout the criminal justice system were offensive to me and to millions of other people, I've never drawn a tight circle around the black community to define the limits of my moral concern. But that narrative tends to get imposed on you, if you're an African American activist. But in the aftermath of Hurricane Katrina, we did create Color of Change, an organization which focused on African Americans in particular, because we felt that there was a big gap there in terms of online advocacy which had left the black community particularly vulnerable.