Legendary tap dancer Savion Glover blended soul, flamenco and speed to enthrall appreciative Boston fans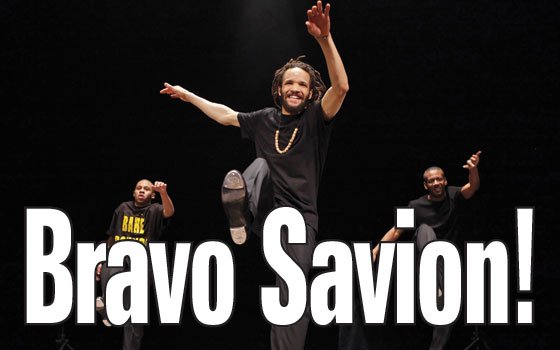 Legendary tap dancer Savion Glover blended soul, flamenco and speed to enthrall appreciative Boston fans


Savion Glover drilled, slid and drummed his metal-tipped tap shoes into a wooden platform at the Boston Opera House Saturday night as if propelled by power beyond his own.
It was not just his seemingly inexhaustible energy. Nor was it his apparently limitless well of improvisational ideas and tremendous appetite for give and take with his four superb accompanists.
Constantly in motion for about an hour and a half as he and his ensemble performed the Boston premiere of his latest production, "SoLo in TiME," Glover used his body to channel an entire heritage.
During the program, a joint presentation of Celebrity Series of Boston and World Music/CRASHarts, Glover and his companions performed a dozen semi-improvised works that wove together the traditions of tap and flamenco and mined their soulful essence.
The spare staging — artful lighting, a few smoke effects and fine sound — put the focus on the five performers, who interacted with the agility of a jazz quintet and the intimacy of a chamber group. Arranged ensemble-style, bassist Francesco Beccaro, guitarist Gabriel Hermida and percussionist Carmen Estevez flanked the wooden platform for the dancers, Glover and Marshall Davis Jr.
Wearing a slouchy black jacket and pants and a red T-shirt, his limbs loose and dreadlocks bobbing, Glover blended a rapid-fire staccato flamenco pulse with flights of freewheeling, blues-inflected syncopation. 
Pivoting on one foot with his heel tapping like a woodpecker, scraping a long arc in homage to mentor Jimmy Slyde, or trotting rhythmically in place, Glover was a nonstop spellbinder. But nothing he did was random showmanship. Instead, he was constantly in dialogue with his accompanists, who shared his joy in collaborative improvisation.
Steeped in the flamenco tradition, the three instrumentalists joined Glover in weaving ever-changing rhythmic and emotional currents that rose to cathartic release.
With inventive footwork, Glover responded to the slightest provocation — a lyrical melodic thread by Hermida or a playful bit of RandB chicken scratch from Beccaro. Striking in a strapless black dress, the versatile Estevez played a small drum, sang in Spanish, let out percussive cries like a scat singer and clapped her hands as if they were castanets.
Glover and Davis shared the platform in an extended duo of dense, interlocking rhythms. Behind Davis, Glover sustained a brawny and intricate backbeat. Davis, who has a smaller physique, gradually spun out of Glover's rhythmic web into a faster, more fluid groove of his own. Evoking the signature sinuosity of Earl "Snake Hips" Tucker (1905-1937), Davis swayed his pelvis while each of his legs, in parallel, executed a sensuous shimmy. Then, the two men cruised in unison to a high altitude finale.
Although his taps did most of the talking, Glover took the mike to introduce the ensemble and stage crew and invoke Boston's own tap dance royalty, including Leon Collins and Jimmy Slyde.
Glover sees himself as heir to the generations of hoofers who inspire him. They include Gregory Hines, who said of his protégée, "I think Savion is the greatest tap dancer that ever lived."