Nonprofit aids clients in building credit, buying cars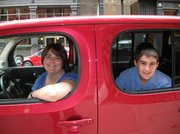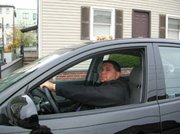 Sean Yaris (above), Kathryn Dunklee (middle) and Eric Melo have all benefited from services provided by More Than Wheels. (All photos courtesy of More Than Wheels)


More Than Wheels — a nonprofit company that uses car buying as a catalyst for economic stability — is helping clients take control of their finances.
Founded in 2001 in New Hampshire, the successful organization now has offices a stone's throw from South Station in Boston. Focused on helping people understand their credit and modify their attitudes toward money, More Than Wheels has helped more than 1,500 people purchase cars.
"Our program is unique," said Susan Chadwick, marketing communications manager. "What we've done is put together the credit education and car-buying process. It's the catalyst for change."
Having a car, especially in an urban neighborhood, equals access.
"Naysayers have said: More Than Wheels is not necessary. There's public transportation available for everyone. But what if you work an odd shift at work and the busses don't run when you get off?"  asked Chadwick. "What if your job is outside of the area where pubic transportation is accessible? I have a client who told me that after they got their car, they were able to get a much better job."
Other than buying a house, getting a car is one of the largest purchases consumers make. But, if credit issues are a problem, buying an automobile can start a cycle of debt.
"A lot of people get frustrated and head to those "Buy Here, Pay Here" lots," Chadwick said. "They walk away with an interest rate between 19-30 percent. If it's not a reliable car, then the buyer has to pay for repairs on top of car payments. It's a very disempowering feeling."
Once a client has registered for the program, they take financial fitness (FinFit) classes where they are presented with their credit reports. Each class is dedicated to a different skill including how to save money on your grocery bill and the financial benefits of car maintenance. Counselors on hand teach them how to budget and how they can save money.
"We had a client who didn't realize that he was spending a $175 a week at Wendy's eating value meals," Chadwick said. "Another client spent $60-70 a week on cigarettes. She had always wanted to go to Europe. That was her 'aha' moment. She realized she could make some of her dreams come true if she changed her habits."
Behavior change is what More Than Wheels is after. Clients stay in the program anywhere from three to 12 months, depending on their credit challenges.
"It took me about six months before I got a car," says More Than Wheels client Eric Melo, 26. "I got into credit problems when I was 18. At the time, credit was like a faded image in the back of my head. I wanted to get a car, but couldn't get financing without a co-signer and a high interest rate. Plus if I got an older car, I'm just inheriting someone else's problems."