Talking with young people about healthy living - exercise, nutrition and weight
12/6/2011, 6:07 p.m.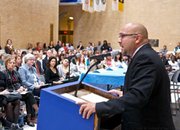 Community and legislative leaders heard directly from young people about one of the most pressing public issues of our time — obesity and healthy living. At a packed educational forum at the Massachusetts Statehouse last month, the young people and their families shared how important healthy living has been to them as part of an effort to address the epidemic of childhood obesity.
Chloe, 11, from Charlestown, changed her eating habits after learning from her doctor that her weight had reached an unhealthy range. "When I'm eating well and exercising it makes [me] feel good," Chloe said. "You only get one body and you have to be responsible."
The forum was presented by Partners HealthCare and Words Can Work, and co-sponsored by the Massachusetts Departments of Public Health and Elementary and Secondary Education. Legislative co-hosts included Sen. Richard T. Moore, Rep. Steven M. Walsh and Rep. Jeffrey Sánchez.
The event marked the premiere of the new DVD "Words Can Work: Kids and Healthy Lifestyles." Words Can Work creator Jeanne Blake said, "We identified a key, missing element in the national dialogue about childhood obesity: helping families talk about factors that contribute to the epidemic. This film shows parents and other caring adults in kids' lives how to begin these valuable conversations."
In the video clips three young people describe how talking about physical activity, nutrition and healthy weight with a parent or other caring adult resulted in healthier lifestyles. Following a screening of the video, clinical and policy experts answered questions from an audience of more than 300 educators, young people and health care providers.
"We are so grateful to all who shared their stories of how they were able to work through difficult healthy living issues, and to begin making healthier choices," said Gary L. Gottlieb, M.D., president and CEO, Partners HealthCare. "This is an issue that affects all of us and will take all of us, working together, to solve. Through the hospitals, the health centers and our community partners, we are deepening our commitment to the communities we serve and helping young people and their families live healthier lives in healthier neighborhoods."
Lauren Smith, M.D., MPH, medical director of the Massachusetts Department of Public Health said, "Through our statewide measurement of body mass index in schools, we know that over 30 percent of our school children are overweight or obese. This is true even for children in grade 1. It is imperative that we couple strategies like those discussed today with policy and environmental changes at the community level to help young people and their families make healthier choices."
Public health experts and the Massachusetts Legislature worked long and hard to pass the School Nutrition Bill, and after years of advocacy, it was signed into law last year. "Through this law, we are providing a new tool to educators and health and wellness leaders in schools across the Commonwealth," said Sen. Moore, chair of the Joint Committee on Health Care Financing. "Providing more than a million children each day with nutritious options to eat in schools will help to prevent costly diseases like diabetes, and enable young people to live healthier lives."