Thanking Dr. King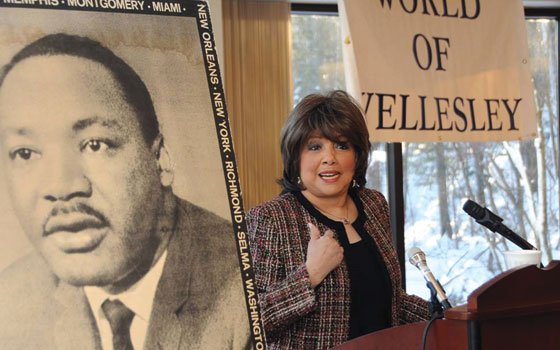 Award-winning TV journalist Carole Simpson recalls a meeting with Dr. Martin Luther King Jr. that changed her life
For former ABC news anchor Carole Simpson, life has been a parade of firsts.
She became the first woman to broadcast radio news and the first African American woman to anchor television news in Chicago. She went on to become the first African American woman correspondent for a major network, and then rose to become the first African American woman news anchor for a major network.
Later, in 1992, Simpson became the first woman and the first minority to moderate a presidential debate.
 But as expected, alongside her trailblazing success came considerable difficulty. In her new memoir, "NewsLady," Simpson chronicles her battles with racism and sexism during her 40-year tenure as a journalist, showing that persistence always pays off.
 Simpson grew up on the South Side of Chicago in the 1940s and '50s, where she excelled in school and dreamed of becoming a journalist — an unheard of goal for a black girl at that time. Instead, her parents and teachers encouraged her to become a teacher, a more "reasonable" aspiration. But Simpson was stubborn, and eventually obtained a journalism degree from the University of Michigan.
 After graduation, however, she found herself the only one in her class without a job. She was also the only person of color. So she turned to teaching at Tuskegee University in Alabama and then started working toward her master's degree at the University of Iowa.
But the Watts riots of 1965 changed everything. After massive protests and violence broke out in the poor black neighborhood outside Los Angeles, news organizations all over the country suddenly wanted black reporters who could access the communities and ask the questions white reporters could not.
 Simpson's phone soon started ringing with job offers. "There were many black journalists who, like me, had been having trouble finding jobs," Simpson writes. "But now our color had become an advantage, not a hindrance." Accepting a reporting job at Chicago's WCFL Radio in 1965, Simpson became the first woman to broadcast news in the city.
Although Simpson proved herself to be a talented reporter, sexism and racism continued to nag her. The news director of the station only assigned Simpson soft pieces, like childcare conferences, gala events, beauty pageants and baby animals — "women's stories."
Colleagues also attempted to sabotage her. During her first weeks on-air, Simpson said one man walked into the broadcast booth, "pulled down his pants and 'mooned' me while I was reading news about American deaths in Vietnam."
 Another time Simpson was reporting live on-scene when an anchorman knelt below her, reached up under her skirt and fondled her. "Did I shriek? Did I mess up? No, my delivery was smooth because I had learned not to be distracted by what was going on around me," Simpson writes, recalling the incident. "Thanks to those shenanigans from my early radio days, I was able to finish any live report, whether I was in the midst of gunshots, surrounded by riot police beating black protestors, or walking in a minefield in Angola."