'1001' is a modern twist on 'Arabian Nights'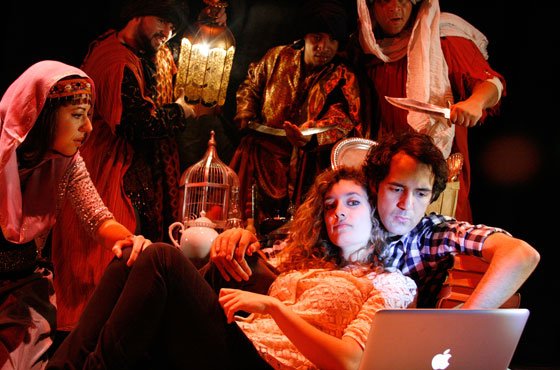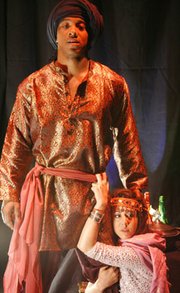 Do stories have the power to change history and save lives? Scheherazade, the fable-spinning heroine of "One Thousand and One Arabian Nights," suggests that they do. So does playwright Jason Grote, whose re-imagining of the venerable tale, "1001," is on stage through Aug.13 at the Plaza Theatre of the Boston Center for the Arts.
Scheherazade's wife-slaying consort, Sultan Shahriyar, spares her so he can keep hearing her intoxicating stories. Grote's play satirizes the book's vision of a voluptuous and exotic East while wielding its timeless fables to probe contemporary collisions of cultures, faiths and worldviews.
Since its 2007 premiere at the Denver Center Theatre Company, "1001" has been produced in 15 cities nationwide.
Directed by Megan Sandberg-Sakian, Company One's Boston premiere of "1001" is a magic carpet ride. Accompanied by spare but evocative staging, the six-member cast performs the play's 28 roles with sumptuous flair.
Attired in Elisabetta Polito's costumes — from jeans to glittering caftans and turbans — the  actors transform their small performance space into a time-traveling array of scenes, from a Persian sultan's palace to 9/11 Manhattan. Backed by a fun-house mirror and aided by David Roy's chimera-like lighting, Cristina Todesco's efficient set uses few props: a magic lantern, a scimitar and a gilded book that doubles as a laptop. Nine upholstered cubes interlock into a divan, bed or bier.
Grote's succulent language drenches this magic carpet in saturated colors. And the interweaving roles and plots in his play evoke echoes and parallels across time and place, suggesting connections among people and stories that are centuries and oceans apart. But what gives the production its transporting lift is the vibrant cast.  
The swarthy One-Eyed Arab (Ben Gracia in one of seven roles) swaggers up to the audience, making penetrating eye contact as he introduces the play with a mix of menace and humor.
Grote draws all the parts as caricatures, but as Scheherazade and her 2001 counterpart Dahna, a Kuwaiti graduate student in New York, Lauren Eicher breathes warm, in-the-moment life into her two roles. She is sensuous and wily as Scheherazade, who is determined to end the sultan's habit of avenging adultery by bedding and then beheading his virgin brides. She keeps Sultan Shahriyar from slaying her by entrancing him with her stories. In her hands, the book proves more potent than the scimitar.  
And as Dahna, Eicher conveys the struggles of a young woman pulled by old and new worlds.
Nael Nacer is both the sultan and Dahna's Manhattan boyfriend Alan, a Jewish graduate student who is striving to create a new story that transcends Arab-Jewish enmities. He shields Dahna from a Zionist heckler (Hampton Fluker) and earnestly accompanies her to Palestine.
Grote threads ironic humor throughout his play. Nacer's Shahriyar involuntarily blurts out 21st century phrases. As Scheherazade hypnotizes him, he compares her face to a screensaver. Reluctantly agreeing to visit Palestine, Dahna reminds Alan that her own privileged upbringing in Kuwait has little in common with the lives of war-torn refugees. As their relationship frays, she tells Alan, who is writing a thesis on post-colonialism in Internet porn, "I wonder if I've been some kind of Orientalist project for you."