Arts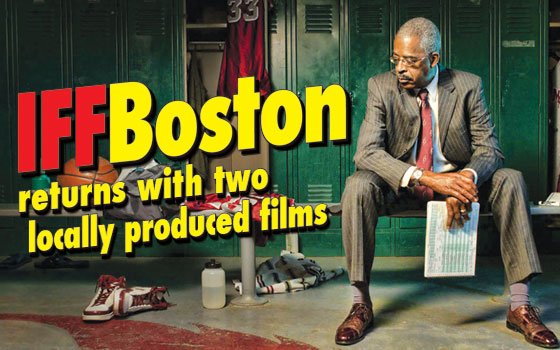 At the upcoming IFFBoston, films include a documentary on Madison Park High School's basketball team and coach Dennis Wilson to "Raising Renee," a feature on a woman who takes care of her debilitated sister. There's also a feature on the creator of Elmo titled "Being Elmo: A Puppeteer's Journey." (Photos courtesy of "Raising Renee," "Being Elmo: A Puppeteer's Journey" and Mike Pecci)


The Independent Film Festival of Boston (IFFBoston) returns April 27 - May 4, with more than 90 films. Each year IFFBoston brings a wide-variety of films created by a local and international body of filmmakers to Cambridge and Somerville, and this year is no exception, with many local films for audiences to choose from.
Roxbury's own Dennis Wilson, former coach and history teacher at Madison Park High School, stars in, "PUSH: Madison versus Madison," a film about the trials and accomplishments of the 2006-2007 basketball team, which he co-produced with local filmmaker Rudy Hypolite.
"Rudy was able to capture some real truisms of the team," Wilson said. He explained that the film shows his relationship with the players and their performance habits on and off the court.
It is important to Hypolite that people get to know the team as well as the neighborhood. Filming took place on the court, in the classroom and throughout the community.
 "[Roxbury] definitely is a character in the film," said Hypolite. "Even in the opening montage and as we transition from one day to the next you see different parts of Roxbury. Some parts that people will definitely recognize who are from the area, and also it gives those who aren't from the area a sense of, you know, the neighborhood itself. Not just the basketball court, but some of the houses, some of the key landmarks: Washington Park …"
"Dudley Square," Wilson chimed in, "Blue Hill Ave., Codman Square, Washington Street … there is definitely a Roxbury flavor in the film. No doubt."
Hypolite explains that is Wilson's charisma that carries the film. He calls his inspirational speaking style "on-point" and said that he couldn't have scripted him better in a narrative film. Audiences are sure to see Wilson's commitment to his students and to also be captivated by his coaching style.
It's his love for his students and his belief in them that Wilson said helped the team succeed. By sharing his own history, Wilson showed his students that they could be like him and overcome their adversities. Wilson grew up poor in Roxbury but made a promise to his mother before she passed away that he would go to college. He went on to attain two university degrees and then returned home to share his knowledge with his community.
"I didn't have it nowhere near as well as you guys and all the opportunity that you guys got," he would tell his students. "I said, 'So I don't want to hear that you don't have this, you don't have that. You guys have all the opportunity in the world,' and I said, 'All I want you to do is do your best; respect me and my program; respect each other and just, try. And I'll take care of the rest.' "