Café Tatant: Roxbury's latest home for community talent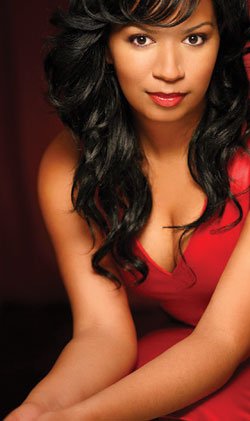 Providence based singer Michelle Cruz performed to a full house last month at Café Tatant — Roxbury's newest supper club — in Hibernian Hall. Every other Thursday, Café Tatant provides a venue for up and coming jazz musicians to perform and gives locals a chance to hear good music without leaving the neighborhood.
An ambitious but much needed idea, Café Tatant, just may jump-start Roxbury's renaissance once the kinks are worked out.
Like most buildings in Roxbury, Hibernian Hall has a rich history. Built in 1913, it's gone from a dance center for the Irish community to a job-training center in the 1970s to being abandoned later for decades. After Madison Park Development purchased it and rehabbed the building, the hall has slowly become a community center where dance rehearsals and plays are held and movies are shown.
On one recent night, dinner was provided by George Huggins of Ethnica Gourmet. It took an hour to come out and some patrons had to remind waitresses of missing utensils, but it was Cruz' lilting voice and the bartender's great customer service and easy smile that made waiting a little easier.
Cruz sang selections from her latest album "The Recovery" and an acapella piece by soul sista Erykah Badu. After the show, the Banner got a chance to chat with Cruz — who recently performed at a memorial service for Cape Verdean Tuskegee Airman George Lima — about life, her culture and what's next in her career.
When did you decide to pursue music?
I decided to pursue it professionally after performing at a Jeff Buckley Tribute Concert for the Rock and Roll Hall of Fame in Cleveland in 2003. The first time I knew I wanted sing? That had to be in third grade singing the national anthem for the Pawtucket Red Sox with my class. I had a little solo. It was an amazing feeling standing there. I knew what I wanted. It just took time to develop.  
Is your family supportive?
They really wanted me to pursue something else. I come from a musical family (my uncle, Malaquias Costa wrote and performed music for Cesaria Evora). Cape Verdean parents tends to look down on a woman who wants to get into music, never mind put a guitar in your hand. They are coming around though. I think singing the song I wrote; "Deixa" for the president and first lady of the Azores made them (my parents) take me seriously. I saw the pride in their eyes. I think my mom is still waiting for me to go to grad school though. I was invited to speak about music education in 2006 at Stanford University. I think my mom was hoping I would stay there!
Tell me about the Azores Awards. How did you become involved and how was the trip?
I was actually singing for the president of the Azores during his visit to the USA last year that ended up on Portugal TV. I have been trying to learn more Portuguese and understand my extended family a bit more. I challenged my dad and said I would try to write a song in Portuguese. I sang it at an event and was invited to the president's welcoming reception and got to bring my dad along with me. Going over the correct way to address the president in Portuguese with my dad is a memory I will treasure for the rest of my life.