For the last 40 years, Dale Chihuly has transformed the art of glassmaking to new heights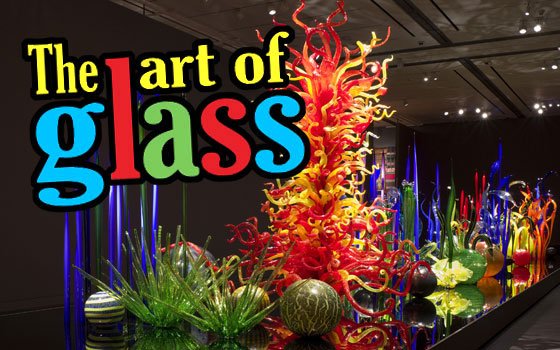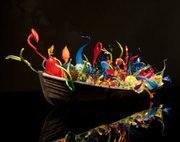 For the last 40 years, Dale Chihuly has transformed the art of glassmaking to new heights


The beguiling exhibition of glass sculptures on view through Aug. 7 at the Museum of Fine Arts, Boston (MFA) has an apt title, "Chihuly: Through the Looking Glass." This showcase of works by Dale Chihuly draws viewers into an alternate universe that evokes the bizarre, gorgeous excess of nature in a voluptuous profusion of colors, textures and shapes.
Chihuly renders the ephemeral in a material that is both enduring and fragile, glass. The technique is timeless — using intense heat to melt glass, breathing form into the molten blob through a blowpipe, pressing it with hand tools and spinning it into shape using gravity and centrifugal force. A piece of blown glass is an object frozen in motion.
Over more than four decades, Chihuly, 70, has used this technique to take glass art into new realms, experimenting with colors, designs, textures and scale. In the collections of more than 200 museums, his pioneering works also include large-scale outdoor installations in conservatories, botanical gardens and arboretums throughout the world.
A globally renowned American artist with roots on both coasts, Chihuly has since 1983 made his home in Seattle, also the site of his studio and hot shop and close to the Pilchuck Glass School, which he co-founded in 1971. Born in nearby Tacoma, Chihuly received a bachelor's degree in Interior Design from the University of Washington and then earned an master's degree in sculpture in the nation's first hot glass program, at the University of Wisconsin. Next, he went to the Rhode Island School of Design (RISD), where he received his Master of Fine Arts in 1968.
Under a Fulbright Fellowship, he then spent a formative year in Venice working at the Venini glass factory on the island of Murano. He returned to establish the glass program at RISD and throughout the next decade taught glassmaking at both RISD and Pilchuck.  
After an auto accident in 1976 left him blind in one eye, Chihuly turned from blowing glass to instead, directing teams of glass artists who create his designs. Like a choreographer, he conceives and orchestrates each installation, often restaging and evolving the works. Some are structures with thousands of hand-blown parts. Like a company of dancers, the glass pieces travel the world and adapt to each host city.  
Chihuly designed the Boston exhibition, which was organized by MFA senior curator Gerald W.R. Ward. Three works in the MFA's glass-walled courtyard are a prelude to the show. Chihuly's 42' tall "Lime Green Icicle Tower" (2011) almost reaches the ceiling of the soaring atrium. Composed of 2,342 hand-blown pieces of glass, the exuberant stalk suggests an abstract version of a Douglas fir, a tree common to the artist's home state. Over the entrance to the courtyard is a sprawling mural of green and red glass tubes lit from within by neon and argon gases. And amid the live greenery that rims the courtyard, Chihuly has planted flamingo-like cattails of amber-hued glass.