Panel addresses aid in Haiti, a year after the earthquake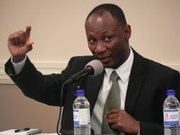 Above: Angela Bruce, senior policy advisor at Oxfam International, speaks at Ford Hall Forum's "Haiti and Aid Effectiveness." Below: Ronald Bernard experienced first-hand the devastation of the earthquake that struck Haiti last year. (Richard Caesar photos)
Almost 15 months to the day of the massive earthquake that rocked Haiti, more than half a million Haitians are still displaced and many still rely on humanitarian aid.
This is why the effectiveness of aid and the challenges of the rebuilding efforts took center stage last month at the Ford Hall Forum's free public lecture and discussion, "Haiti and Aid Effectiveness."
The scale of the Haiti disaster coupled with the slow, tainted process of the recent election, has made the rebuilding process a daunting task, most observers agree.
Panelists at the discussion, including Oxfam Senior Policy Advisor Angela Bruce, talked about that process of rebuilding. Oxfam operates throughout the world, in developing countries with the aim of fighting poverty and aiding development. Bruce said she was "cautiously optimistic" about the recovery efforts and Oxfam's role in Haiti.
"Yes, the process has been a little slow, and a lot of that has to do with the crisis after crisis that Haiti has been facing," Bruce said. "That being said, there is a plan … the Haitian people have a plan for what they want to see done and once the government is in place, they will formulate their own plans as well."
She explained that a lot would depend on the effectiveness of the new Haitian government.
"The people in Haiti and in the international community want a legitimate, functioning, credible government," she said. "This is key to anything that's going to happen. The development process is not going to happen outside the government. The reality is that the development and reconstruction process must happen in conjunction with what the Haitian people want and what the Haitian government wants."   
Bruce said that even though Oxfam has been working in the spontaneous camp settlements, distributing clean water and sanitation services since the earthquake, the time has come to move beyond the stage of free aid.
"The fact is, it is a difficult way to give aid now," she explained. "It's not in the best or the sustainable interest of Haiti to have aid continue to be delivered in this manner. Moving to reconstruction and toward development is the part that needs to be done."
The other member of the two-person panel, Ronald Bernard, is Haitian and experienced the January 2010 earthquake and spent another six months in Haiti helping with the initial aid effort before returning to the United States. He too believes there needs to be re-evaluation of how aid is being delivered.
"There is a big gap now between the needs and how the aid has been structured," he said. "I don't think they're taking into account the needs of the people. There should be a reform in the aid so that they can better help Haitians to be independent."