'A Reason to Believe'
4/13/2011, 8 a.m.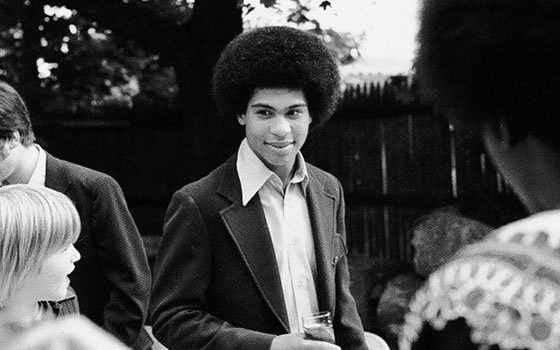 In his new book, Deval Patrick reflects on Chicago's South Side and the Governor's Office
Deval Laurdine Patrick was born on July 31, 1956 in Chicago where he and his elder sister, Rhonda, were raised by their mother, Emily "Mae" Wintersmith, in the home of their maternal grandparents after she was abandoned by her husband. Their absentee father, the late Pat Patrick, was a legendary jazz saxophonist who recorded and performed with everyone from Duke Ellington to Miles Davis to Thelonious Monk to Sun Ra.
Patrick exhibited enough promise in junior high to land a scholarship to Milton Academy, a prestigious boarding school located in Massachusetts outside Boston. From there, he went on to earn both undergraduate and law degrees at Harvard University.
He subsequently worked with the NAACP Legal Defense Fund and then as an Assistant Attorney General for Civil Rights under President Clinton. He also enjoyed stints as general counsel at Texaco and Coca-Cola before deciding to run for governor of Massachusetts, a position he has held since 2007. Last fall, he made history by becoming the first African American in the United States ever to be re-elected as a governor.
Patrick and his wife Diane, who is also a lawyer, have two college-age daughters, Sarah and Katherine. Here, he talks about his autobiography, "A Reason to Believe."
I really enjoyed your autobiography on several different levels. But I should tell you right off the bat that I played in a group with your dad back in the day during my very brief jazz career.  
Come on?
It's true. And I even got to record on an album with him once with the Sound Awareness Ensemble led by Robert Northern, aka Brother Ahh. Your father was a very positive influence on my life.
Oh, wow! I might have guessed that, because he paid a lot of attention to younger musicians. 
Absolutely! And not just in terms of music, but as far as diet and nutrition, too.
I remember how my dad was so into herbal solutions and health food well before that stuff became popular.
I hesitated to bring this up, because in your memoir you reflect upon the pain you felt because of being neglected by him for so many years.
I remember once when I was about six, after my parents had split, an occasion when my father was passing through town because he was playing with Count Basie at the Regal Theater on the South Side of Chicago, a famous destination. He picked me up and promised to take me for ice cream after the show. But he had me waiting in the wings, and I just remember being knocked over by the sound which was too much for the ears of a little kid. And I was bored and kept asking, "Is it over yet? Can we go now?"
Another time, I was in a smoky club where he was playing with Thelonious Monk, who was probably his favorite person to play with. Even though, back then, I was frequently frustrated as a youngster who just wanted to spend time with his father, I can now appreciate that he was in the company of all these jazz legends and that he was completely dedicated to his art, albeit to the exclusion of everything else.