Freeman narrates new film 'Born to Be Wild'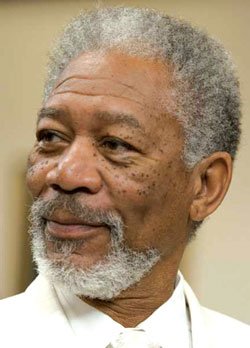 Morgan Freeman finally won an Academy Award in 2005 in the Best Supporting Actor category for his work in Clint Eastwood's "Million Dollar Baby," for which he also won a Screen Actors Guild Award.
In 2009, he reunited with Eastwood to portray Nelson Mandela in the true-life drama "Invictus," for which he garnered his latest Oscar nomination.
Freeman had previously been honored with three other Academy Award nominations, for "Street Smart," "Driving Miss Daisy" and "The Shawshank Redemption." And he is set to star next in the family adventure "Dolphin Tale" opening in September.
Morgan's long list of film credits includes "Red," "Batman Begins," "The Dark Knight," The Bucket List," "Gone Baby Gone," "Bruce Almighty," "Evan Almighty,"  "Along Came a Spider," "Deep Impact," "Amistad," "Kiss the Girls," "Se7en," "Glory," "Lean on Me" and "Brubaker." And he's lent his distinctive voice to Steven Spielberg's "War of the Worlds" and the Oscar-winning documentaries "March of the Penguins" and "The Long Way Home."
Here, he talks about narrating "Born to Be Wild," an endangered species documentary chronicling the extraordinary efforts of a couple of conservationists to save orphaned elephants and orangutans.
What interested you in narrating another documentary? Was it the fact that "March of the Penguins" and "The Long Way Home" went on to win Academy Awards?
Well, I wasn't really thinking about those at all. I just felt that what these two ladies [Daphne Sheldrick and Birute Galdikas] are doing is extremely important. I believe in helping the planet survive, and that includes reaching out to help some of the disappearing creatures whose habitats we're destroying. It's up to us to somehow reverse that trend. I don't know how we'll achieve it, but we need to.  
What message do you want the public to take away from the movie?
How critical it is that we pull together and focus some attention and energy on alleviating the plight of endangered species.  
It was great to see you on Broadway in "The Country Girl." Would you consider returning to Broadway?
In a word, "No."
If a person unfamiliar with your work wanted to watch just one of your films, which one would you suggest?                                                      
I think I would recommend "Invictus."
Since you've contributed your immense talents to so many great films, I'd like to know which one is your favorite.
 "Glory."
Did you have a role model whenever you played God?
And who was that?
Me. [Laughs]
Are you the voice of God or do you just play him in movies?
What the heck kind of question is that? I am the voice of God and that he better listen to me. [Laughs]
Have you ever felt like giving up and doing something different at anytime during your acting career?
Oh yes, many times, however, not during my career, but while trying to get my career going. Absolutely! I have many friends and Providence itself to thank for not having given up.
Do you have any advice for young actors desiring to become actors?