An American roadmap to educational equality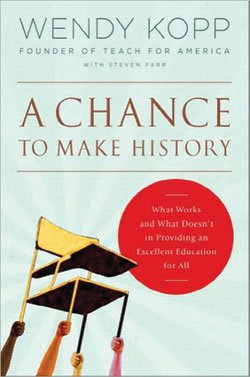 Teach for America is about to embark on its 20th year.
What began as Founder Wendy Kopp's undergraduate senior thesis in 1989 has blossomed into an organization dedicated to providing kids from low-income communities with an excellent education, or as Kopp describes it, solving the education crisis.
"We have communities where we're putting more kids into prison … in a country that aspires to be a land of equal opportunity," Kopp said.
Kopp's latest book, "A Chance to Make History: What Works and What Doesn't in Providing an Excellent Education for All," discusses why she believes the time for change is now, and how it is possible.
She says the problem is so systemic, so rooted into our educational system that as a country, we are beyond the blame game and at a point where everyone needs to work together. Kopp emphasizes that there is no shortcut or silver-bullet solution — solving the education crisis is going to require a lot of hard work. She argues that the first step is to put transformative leadership in place.  
"A Chance to Make History" begins by taking the reader into various classrooms of Teach For America teachers who she demonstrates are transformative: meaning they are working with kids from rural and urban low-income areas who are, more often than  not, one or two years behind in school. These teachers, Kopp says, are transforming their student's future by bringing them up to grade level and beyond. These kids become more likely to graduate and go to college, creating more professional opportunity for them and thus, breaking the cycle of poverty.
One teacher plays inspiring scenes from movies to pump her students up for learning; another takes his kids on weekend visits to local colleges so that his students might visualize themselves there; and another made morning wake-up calls to her student's homes to make sure that they would all be at school on time, ready to learn. The common thread between all of these exemplary teachers is a seemingly endless amount of energy and conviction that their students can achieve any goal they set.
Kopp shows readers just what this conviction toward transformation sounds like when she shares her conversation with Atlanta high-school Social Studies teacher Maurice.
" 'Once I decided that everyone was going to college, it changed everything,' he told me. 'When they come to me … they can't do all these things you need to do to go to and succeed in college. This is not kindergarten, and we don't have twelve years to fix this. I've got twelve months to get this done if they are going to college. Twelve months. We have to get to work.' "
A great amount of the book is dedicated to giving examples of transformative leadership in areas where Kopp says, "five years ago people threw their hands up" and today, they are changing the future of their communities. New York, New Orleans, Washington, D.C. and the Rio Grande Valley in Texas are a few of the communities that she discusses.