A citizen and a Celtic
Jim Vrabel | 4/12/2011, 7:32 p.m.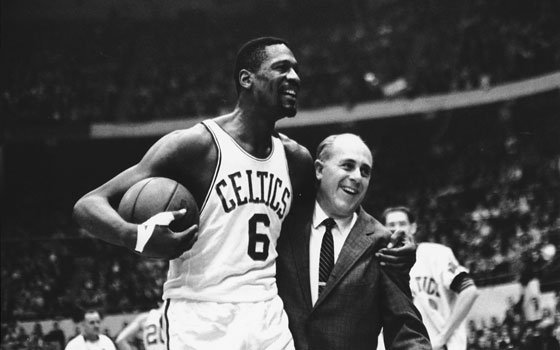 Bill Russell was a rare breed, on and off the court
Today, community activism seems to be at a low ebb in Boston and community involvement by sports heroes is too often confined to much-appreciated but well-publicized charity golf tournaments and visits to schools and hospitals.
It may be useful, then, to recall an earlier time in the city's history — almost 50 years ago — when activism was (pun intended) all the rage and one of the city's greatest athletes got involved in its civic life not to enhance his "image" but because he felt it was the right thing to do.
Boston was a different city back then. As the Rev. Martin Luther King Jr. said on Boston Common after leading the "March on Boston" in April 1965: "It would be dishonest to say Boston is Birmingham, but it would be irresponsible for me to deny the crippling poverty and the injustices that exist in some sections of this community." Then Dr. King added: "The vision of the New Boston must extend into the heart of Roxbury. Boston must become a testing ground for the ideals of freedom."
Bill Russell had already taken it upon himself to help make it one. Three years before, in May 1963, Russell had led a contingent of 2,000 marchers from Roxbury that joined 8,000 others on Boston Common. It was the largest civil rights demonstration in Boston history up until that time, and it was held to support Dr. King's work in Birmingham.
Julian Houston, then a Boston University student and later a Massachusetts Superior Court judge, explained why he was there that day. "People saw fire hoses knocking down children on the nightly news," he later recalled. "And they said: 'Wait a minute! We can't put up with that! We've got to do something about this."
Russell was one of those people. Russell was also there a month later, in June 1963, when 5,000 African American junior and senior high school students staged the first "Boston School Stay Out" to protest "de facto segregation" in the Boston Public Schools. The students didn't just boycott their classes, though, they attended "Freedom Schools."
The schools were created by community activists like Noel Day and Rev. James Breeden, and the teachers were volunteers using a "civil rights curriculum" they had created that would later be used in Mississippi. The students also listened to guest speakers. Among those speakers were the Rev. Anson Phelps, Episcopal Bishop of Massachusetts, and a Mr. William Fenton Russell.
Three years later, in June 1966, Russell was the graduation speaker at a "Freedom Graduation Ceremony" at St. Hugh's church for students at the Patrick Campbell Middle School. The original ceremony had been interrupted when Rev. Virgil Wood, Massachusetts chairman of the Southern Christian Leadership Council in Boston, led a protest against the presence of Boston School Committee woman Louise Day Hicks, whose refusal to take the small steps needed to address segregation in the schools in the 1960s led a federal judge to order more drastic steps to be taken in the 1970s.