New BHA chief of staff brings unique perspective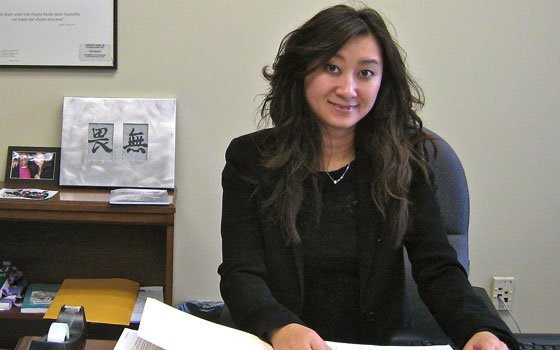 An immigrant who grew up in public housing, Trinh Nguyen now works to bring self-sufficiency to Boston's increasingly diverse public housing population


A week or so into her new job as chief of staff at the Boston Housing Authority (BHA) last October, Trinh Nguyen called up Lewis "Harry" Spence, the man who worked wonders during the agency's low point 30 years ago. Spence, appointed by the court to take charge when the BHA went into receivership in 1980, is widely credited with putting Boston's violence-torn and physically deteriorated public housing developments on a path of improvement that continues today.
"He ran things effectively," Nguyen explained, sitting in her BHA office in December, "so I wanted to learn how you can work effectively in a short period of time."
Coming to the agency from the outside — her previous job was vice president of development at Urban League of Eastern Massachusetts (ULEM) — Nguyen wanted to hit the ground running. She felt taxpayers and public housing tenants would want her to do so.
"People are not going to wait ten years for a service delivery model to be published in a paper at Harvard," she continued. "We need to know what's effective and cost effective right away."
The BHA serves about 50,000 low-income tenants, including a growing number of disabled and elderly residents and an increasingly diverse new immigrant population. About half of BHA's tenants reside in its 60 housing developments, and about half use Section 8 vouchers to subsidize rent in other buildings.
Meanwhile, funding cuts loom; the agency faces a possible $13 million cut in capital and operating funds in the Federal 2011 budget, still under fierce debate in Congress six months into the fiscal year.
Slightly built, soft-spoken, with long hair worn loose, Nguyen appears younger than her 37 years. But she speaks with authority when it comes to her job and her mission. She is a "fiscal conservative," she said, seeking to do more with less — sharing support staff, for example, and opting for conference calls over travel when studying the best practices of housing authorities in other cities.
Nguyen is intent on empowering public housing residents, she said. Her goals include increasing job training opportunities for residents, helping tenant organizations reach across language and cultural barriers and building partnerships with outside agencies so the BHA can be an effective "social service broker" for tenants.
BHA Administrator Bill McGonagle said in a January interview that Nguyen had already reenergized the BHA's Section 3 program. Section 3 is a set of federal guidelines ensuring that contractors doing work at housing developments make jobs available to public housing residents whenever possible. He described Nguyen as "tough," especially as she negotiated a project labor agreement with Ameresco, the energy company installing $63 million of water and energy conservation improvements in BHA developments. Nguyen made sure the Ameresco agreement guarantees pre-apprenticeship training for residents to help prepare them for the work force, he said.
McGonagle was seeking new blood when he hired Nguyen.