Language, fervor intact in modern 'Merchant of Venice'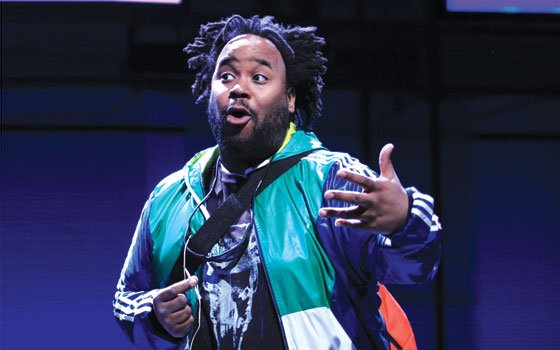 The pleasure begins right from the start of the Theatre for a New Audience production of Shakespeare's "The Merchant of Venice," at the Cutler Majestic Theatre in Boston through April 10.
This presentation of ArtsEmerson: The World on Stage is the Boston premiere of a production directed by Darko Tresnjak that was first staged in 2007. It features several members of the original cast, including the Oscar-winning actor F. Murray Abraham, who plays Shylock, the Jewish moneylender.  
Tresnjak moves the play from 16th-century Venice into the 21st century, keeping its wondrous language, dark comedy, cruel tricks and deal-making fervor intact.
John Lee Beatty designed the sleek contemporary set, which is evocatively lit by David Weiner. Three MacBook Pro computers stand on pedestals, their large overhead monitors showing videos that augment the action on stage. Behind them, floor-to-ceiling metallic screens veil a two-level stage from which characters observe or assist others in the foreground. Linda Cho's costumes deftly convey the rank, bearing and relative prosperity of their wearers, from military garb and rumpled business suits to chic dresses.
In the opening scene, Salerio (Matthew Schneck) and Solanio (Grant Goodman) are chatting by a water cooler with their friend Antonio (Tom Nelis). Their comic banter is a delight as they speculate about the inexplicable melancholy of Antonio, a merchant who is awaiting the return of his ships.
Under Tresnjak's direction, Antonio is more of an abstraction than a man. Weiner's lighting accents the hooded eyes and gaunt face of Nelis, who rasps his lines with a tense, dry voice.
In contrast, F. Murray Abraham's Shylock, wearing a yarmulke and an elegant suit, is so utterly natural that he becomes a far more compelling character.  
When Antonio's beloved young friend Bassanio (Lucas Hall) requests the fateful loan that will indebt him to Shylock, the two friends sit on opposite ends of the stage in a highly stylized scene.
Bassanio asks Antonio to advance him money so he can court the brilliant and rich Portia (played with sitcom slickness by Kate MacCluggage). Antonio's wealth is tied up in his ships; but he secures a loan from Shylock. Antonio agrees to an unusual guarantee: if he fails to return the money on time, he will let Shylock carve out a pound of his flesh.
Wafts of electronica by sound designer Jane Shaw helps to signal the play's frequent changes of scene and atmosphere.
In Tresnjak's brilliant translation, Shakespeare's men and women are entirely at home in a contemporary version of the trading capital that was Venice at the height of its power.
While data whizzes across the overhead monitors, Salerio and Solanio exchange gossip as they make hand signals to execute trades.
Commanding his servant, Bassanio barks into his cell phone, "Hie thee go!" Portia's suitors pull out their phones to take commemorative snap shots as they vie for her hand.
According to her father's will, Portia must marry the man who chooses the one chest among three that holds her picture. The scenes in which each suitor makes his choice are comic peaks. Raphael Nash Thompson plays the Prince of Morocco with cool amiability and Christopher Randolph is hilarious as the unctuous Prince of Arragon (later he is a somber Tubal, a friend of Shylock, and a sober Duke of Venice).