Tech literacy hopes to bridge digital divide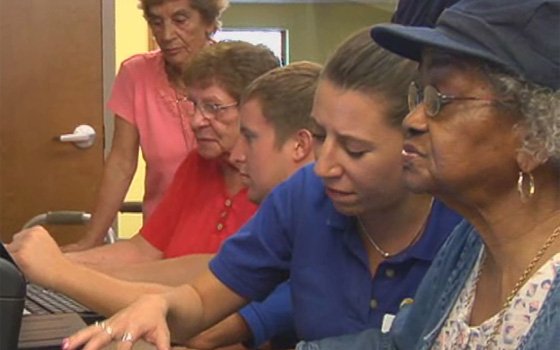 Young, old and all in-between will soon be able to gain access to crucial technical literacy skills in Boston.
Earlier this month, the City of Boston announced an expansion of their "Boston Broadband" initiative. Three programs, Tech Goes Home, On-Line Learning Readiness and Connected Living will share a total of $5.7 million dollars —  $4.3 from a grant awarded by the National Telecommunications and Information Administration and the rest in matching funds by the city and its partners.
These programs will be offered all over the city from schools to community centers, to libraries and senior housing, and at Boston Centers for Youth and Families as well as Boston Housing Authority computer labs.  
Deb Socia, Tech Goes Home executive director, said that she and the other program officials sat down together and worked on a proposal for comprehensive technology learning. The result is that these computer literacy programs will now be able to nurture city-wide technology learning within the next few years.
"We are really going to be able to have a much more tech savvy community," she said.
Tech Goes Home gives computer support for parents and children by teaching parents how to use web-based programs. At the end of each program parents may purchase a netbook at a discounted rate of $50 to continue the learning process.
"It's a win-win because it helps the parents feel connected with the school so they're more likely to be engaged in the school with their child and it gives the child the opportunity to continue learning outside of the school day," Socia said. "We're showing them resume builders, showing them podcasts about financial literacy — there are so many ways that the Internet can change your life and we are using that as a starting out point."
She said that this grant enables Tech Goes Home to more than double their reach within the next two years. They expect that in schools alone they will teach close to 3,000 families how to use web-based technologies, not including the number who will have access to these programs through libraries, community centers and the Housing Authority.
Adults looking to learn how to use web-based technologies with a focus on the corporate working environment can seek out help from On-Line Learning Readiness. As part of the Timothy Smith Network, a curriculum was developed to prepare adults for possible employment in corporate America and also to follow on the path of more advanced Microsoft Certified programs.
Susan O'Conner, Timothy Smith Network executive director, said that this program acknowledges that not everyone wants to learn online and many people might prefer teacher led instruction — even though many businesses have moved away from that type of training.
"We're trying to give people the opportunity to be successful in this online learning environment," said O'Conner. "It's not going to go away; you can't ignore it. The only thing you can do is deal with it."
She said this program will be open to anyone who can read at a ninth-grade level and will be able to dedicate four days per week for 12 weeks to the program. Upon completion, students will also be eligible to purchase discounted netbooks.