Racial identity politics revealed in 'The Shipment'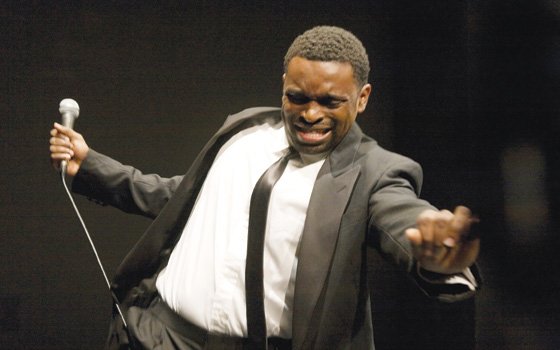 Satire has long been the outsider's weapon of choice. Korean-American playwright Young Jean Lee has tackled Asian-American stereotypes and other forms of prejudice with acidly comic treatments that have made her a star in New York's downtown theater scene.
Observing that few people talk about what she describes as "African American identity politics," Lee, 36, set out to create a play that explores preconceived notions of race. Last weekend, the Institute of Contemporary Art/Boston (ICA) presented the New England premiere of the resulting work, "The Shipment," written and directed by Lee and performed by Young Jean Lee's Theater Company.
Lee recruited a group of African American actors before she had a script and developed the play in collaboration with her cast. She distilled their conversations into a taut, 90-minute social satire that combines song and dance routines, a raunchy stand-up comedy set and a searing comedy of manners.
Premiered in October 2008 at the Wexner Center for the Arts in Ohio, "The Shipment" takes as its title a word associated with the slave trade, drug deals and the baggage of assumptions that weigh down encounters among people who differ in race, class or culture.  
Lee's spare script presents an array of 20 stock characters. Her five actors portray this cast of caricatures with versatility and comic verve.
Aundré Chin ably projects earnestness as Rapper Omar, a boy who wants a hip hop career at any cost, and as Michael, a smart, competent middle-class male who nevertheless has self-esteem issues. Mikéah Ernest Jennings, with big hair and a splashy vest, is equally diverting as Crackhead John and later, as an ingratiating young man eager to talk about nuances of his vegetarian diet.
Amelia Workman is an elegant chameleon in roles that include Drug Dealer Mama, the svelte executive Thomasina and Grandma from Heaven, who erupts in a lava flow of words as she narrates an inscrutable creation myth.
Prentice Onayemi's penetrating eyes, impassive face, electrifyingly deep voice and long silences lend a surreal quality to his roles, including Drug Dealer Desmond, Bill the Record Company Executive and Desmond the office colleague.
Onayemi jointed Jennings in a dance choreographed by Faye Driscoll that blended minstrel-show shuffles with B-boy moves. And he injected his rich baritone into a meticulous a capella performance with Workman and Chin. Although the lyrics were as bizarre as Grandma's speech, the trio gave the song a stylish delivery.
Douglas Scott Streater puts real heat into his foul-mouthed harangues as a stand-up comic and also in his role as Thomas, the manic party host.
Yet unlike Streater, the other actors often perform in a stylized, deadpan manner and voice their words with an almost unnatural precision. They remind us that they are cartoons, not characters. Their roles are exaggerated versions of racial stereotypes that are themselves caricatures.
Their arch delivery also implicates the audience. Aware that the performances hover between naturalism and a kind of hyper-reality, we are on alert. We watch ourselves watching the performers.
Heightening these effects are Mark Barton's stark lighting, the eerily clean sound design by Matthew Tierney and the sleek staging by David Evans Morris. A black-and-white palette dominates the men's attire by costume designer Roxana Ramseur. And during the first part of the play, the actors perform on a bare black stage.