Neurosurgeon Carson has Boston roots
9/28/2010, 8:38 p.m.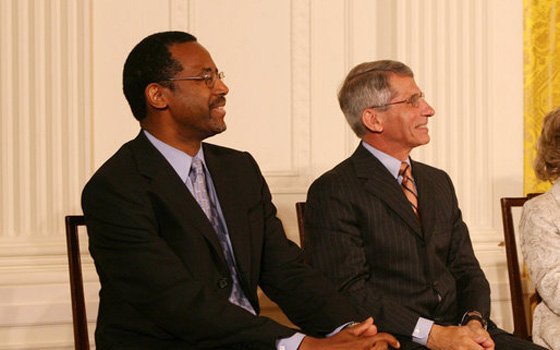 Dr. Benjamin Carson is associated with Detroit, where he was born, and Baltimore, where he made his reputation at Johns Hopkins Hospital as one of the world's premier pediatric neurosurgeons.
But the living legend and winner of the Presidential Medal of Freedom, the nation's highest honor for civilians, also has a connection to Boston.
As a young boy, he lived for two years in Dorchester. After his parents divorced, Carson said in a recent interview, he, his brother Curtis and their mother Sonya Carson stayed with relatives at 37 Stanwood St. near Grove Hall and 6 Glenway St., close to the main entrance to the Franklin Park Zoo.
His Boston years were from 1959 to 1961. The extended family lived in rundown flats, much street violence occurred in the surrounding neighborhoods, and the religious school the Carson brothers attended lacked the resources to provide a solid education.
Yet Carson, whose life story charts a remarkable rise from poverty, accentuated the positive in recalling his childhood experiences in the city.
His mother's older sister, Jean, and her husband William Avery took in the displaced Carsons. Both Averys are deceased.
"That was quite an environment — a lot of violence," Carson said. "I remember they had two older sons, and they would frequently come home beaten up, bloodied, encounters with police and all kinds of things. They both were eventually killed.
"I know a lot of people who got killed," he continued. "It just seemed like that was what happened, young black males got killed. Of course, rats, roaches, the whole nine yards. It was a pretty awful environment. But it was okay. We were there."
As a boy, Carson found pleasure in atmospherics that longtime residents may have taken for granted. "One of the nicest things was the walk through Franklin Park to get to school. You could hear the lions roaring in the morning as they were being fed and stuff like that," he said.
Carson and his older brother Curtis, who became an engineer, enrolled in a Seventh-day Adventist school that then had a tiny faculty.
"We went to a parochial school, Berea," recalled Carson, a devout Seventh-day Adventist. "It was one of those schools where there's two teachers, teaching eight grades, so four grades were in a room. That's probably why we didn't get much of an education. We did learn how to sing a lot of songs, though, religious and nonreligious. That seemed like that was the biggest activity, learning songs. That was something that crossed all grade levels."
The school exists today as Berea Seventh-day Adventist Academy, on Morton Street in Mattapan. The pre-kindergarten to grade eight school has been vastly upgraded since its under-resourced beginnings in 1928 with a single teacher for eight grades, on Shawmut Avenue in Roxbury.
Now accredited by the Boston School Department and New England Association of Colleges and Schools, Berea employs 12 teachers to instruct its 200 students. In 1960, when Carson was a student, it was called Berea Seventh-day Adventist Elementary School and located at 108 Seaver St. in Roxbury.