Arts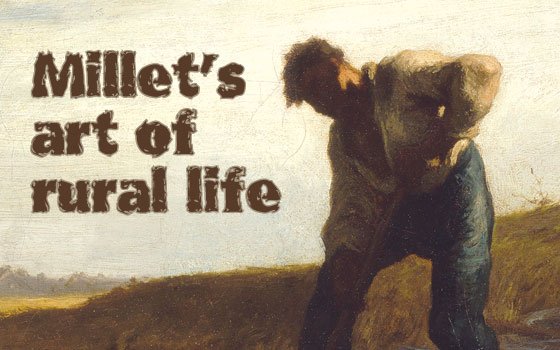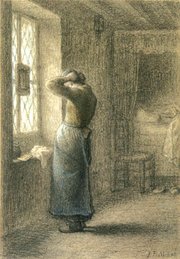 "Morning Toilette" (ca. 1860–62) Jean François Millet, Museum of Fine Arts, Boston.  Gift of Quincy Adams Shaw through Quincy Adams Shaw Jr., and Mrs. Marian Shaw Haughton.

A self-portrait begins the exhibition of French artist Jean-François Millet (1814-1875) on view until May 30, 2011 at the Museum of Fine Arts, Boston. The artist as well as his works are the subject of "Millet and Rural France," an intimate close-up of an artist best known for monumental portrayals of peasants. The grandeur associated with Millet's iconic masterpieces is also evident in these small-scale works that, seen together, show Millet's hand and eye at work rendering his world.
Organized by Helen Burnham, MFA assistant curator of prints and drawings, the exhibition presents about 46 drawings, pastels, prints and paintings from the museum's Millet collection, the largest repository of his works outside France.
Instead of posing studio models, Millet observed and portrayed his neighbors and family members in humble, domestic settings.  
Raised on a farm in a small town in Normandy, Millet received a scholarship to attend the École des Beaux-Arts in Paris, where he studied the 17th century Dutch landscape tradition and met such artists as Honoré Daumier, who were depicting the daily life of the working classes.
At first a portraitist, Millet shows his prowess at crafting an expressive interplay of light and shadow in the 1840 oil painting of himself, which shows a serious and handsome young man coifed in the style of the day.
Millet married the following year but lost his wife to tuberculosis. In 1943, he married his second wife, with whom he raised nine children. Millet's portrait of her, "Madame J.F. Millet (Catherine Lemaire)" (ca.1848-1849) is a delicate study in black conté crayon that shows a woman of unadorned beauty. Shadows sculpt her face and deft lines detail her eyelashes and stray strands of hair.
Drawn back to the countryside, Millet brought his wife from Paris to the village of Barbizon, near the Forest of Fontainebleau. Here, Millet and other artists who became known as the Barbizon School rendered their rural setting in scenes of atmospheric naturalism.
Millet's landscapes combine rich texture and formal clarity in works of quiet eloquence. Elements within the landscape such as haystacks, ladders, latticed fences, simple farm structures and the contours of hills and horizons inject a simplicity into his compositions that enhances their quality of calm dignity.
Millet said that he was striving to capture the "impression received from nature, be it landscapes or in figures."
Depicting terrain and people as they might actually look, Millet's images also convey the grace, gravity and nobility of his subjects, which seem to be illuminated from within.
His works venerate his subjects with a vein of Romantic Realism that also inspired the 19th century Transcendentalists in America, including Emerson and Thoreau.
Grounded in keenly observed and rapidly rendered studies, the figures in Millet's paintings exude vitality and dignity, whether they are farm laborers at work or in repose or family members going about daily activities.