First lady balances work, advocacy and campaigning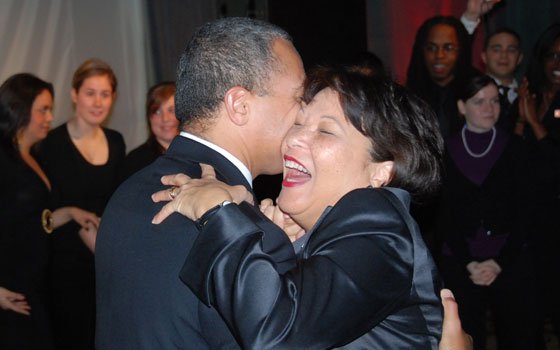 Four years ago, Diane Patrick was an enthusiastic participant in the campaign to make Deval Patrick the first black governor in Massachusetts history. She exchanged hugs and handshakes at spaghetti dinners, beauty parlors and parades, intent on telling voters about this unknown man, her husband, and why he should be their governor.  
November 2006 brought a heady victory — but the victor's wife was headed for a fall.
The pressures of the long campaign and of assuming the first lady role while working as a partner at a prominent law firm took a toll on her, exacerbated by the growing awareness that everything about her and her family was now open to public scrutiny. Six weeks after the inauguration, Diane Patrick hit bottom, succumbing to a widely publicized bout of depression.
She reemerged after a month of rest and treatment, and resumed work.
That crisis, which she couldn't easily keep private, made her an accidental spokesperson for mental health issues. She was even honored by the national Campaign for Mental Health Reform for her willingness to talk about her depression.
But during her tenure as first lady, Patrick has far more often chosen to address a different ill — domestic violence.
It, too, is an ill she knows firsthand.
"Thirty years ago I was in a terrible marriage ... an extremely abusive relationship," she told worshippers on a recent Sunday at Dorchester's Greater Zion Church of God in Christ. She was invited to speak to the congregation as part of their annual Women's Conference. "It took me to the lowest depths. I was afraid to get out," she said.
Unlike many such tales, Patrick's turns upward. She got out.
Living in Los Angeles after finishing Loyola Law School and beginning her legal career, she was trying to end the abusive marriage when a friend introduced her to a young lawyer who had come to L.A. from the East Coast for a one-year federal court clerkship.
That man was Deval Patrick. She credits him with a large part in helping her move her life forward.
"I couldn't imagine a young man would find me, broken, and lift me up," she told the church members, "and remind me that I had the strength and the voice to walk out of that relationship."
They've now been married for 26 years, she announced, and her rapt audience rewarded her with a round of applause.
Dispelling myths
Mary Lauby, executive director of Jane Doe Inc., a statewide coalition of sexual assault and domestic violence programs, said the first lady's story is important to hear because it helps dispel myths about domestic violence victims.
"Diane was a young professional in a marriage with a batterer, and she continued to move forward professionally while still involved," said Lauby. "And she was able to move away from the abuse, into not just another relationship, but a successful relationship."
Patrick serves on the board of Jane Doe and is featured in a public service announcement the organization produced. She has appeared at hundreds of events spotlighting the issue, from vigils to award ceremonies to projects such as the Silent Witness Exhibit, for which she helped paint life-size wooden silhouettes representing men, women and children killed as a result of domestic violence.