One shining example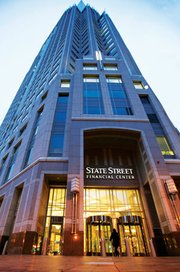 It took nearly 20 years but the State Street Financial Center remains the largest skyscraper in America developed by minority investors
It's never easy building a skyscraper in downtown Boston, and for these minority developers, it was particularly difficult.
In fact, it took 17 years — almost two decades of court fights, political battles, economic downturns and, of course, financial woes — before the $350 million project was finally completed in 2003: a bright and shining symbol of achievement built in steel and glass.
It was worth the wait. Less than a year after its completion, the 36-story building sold for an earth shattering $705 million. At the time, the sale was the largest real estate deal in Massachusetts and the third largest in the country.
More importantly, the developers and their corporate investors — the Gale Company, Morgan Stanley Real Estate Funds and State Teachers Retirement System of Ohio — earned a substantial profit and the minority developers fulfilled their original pledge to share the money with community-based groups.
Ken Guscott and Paul Chan, co-chairs of the Columbia Plaza Associates, were particularly pleased.
Before the sale, the project had generated $16 million in linkage and community development contributions to Chinatown and Roxbury.
The project started with the demolition of a city-owned, decrepit parking garage on the edge of Chinatown and the Financial District on One Lincoln Street.  
It was one of the last remaining prized parcels of land in downtown Boston and Mayor Raymond Flynn was urged by then City Council President Bruce Bolling and Boston Redevelopment Authority (BRA) Director Steve Coyle to adopt a linkage-to-linkage program where downtown development was linked with development in residential areas.
The linkage program was also designed to encourage minority employment and business development. As such the city mandated a minimum 30 percent ownership stake be awarded to a minority group and that 30 percent of construction and technical contracts go to minority- owned companies.
After months of hearings, the BRA named Columbia Plaza Associates as the project's equity principal.   
The 37 investors — 12 from or associated with the Roxbury neighborhood and 25 with Chinatown — got together in 1986 with the idea of investing in a Boston project and sharing some of the profits with their home communities.
Columbia Plaza Associates raised $2.5 million to start the project and had an impressive list of investors: Ken and Cecil Guscott, John B. Cruz III, Fletcher "Flash" Wiley, Wayne Budd, Edward Dugger, Peter Bynoe and Bertram Lee. The largest investor was the Boston Bank of Commerce.
Now named One United, the black-owned bank put up about $230,000 to jump start work on Parcel 18 and then loaned Columbia Plaza $2.6 million to purchase development rights for One Lincoln. The Boston Bank of Commerce had an 11 percent stake in Columbia Plaza Associates (CPA).
 They began by developing a site in Roxbury that the city had linked with the One Lincoln Street property. Called the Ruggles Center, CPA had envisioned a four-building complex, with office buildings and a 200-room hotel.