Details of slave life under Cherokees emerge in new book
Ken Cooper | 9/7/2010, 10:52 a.m.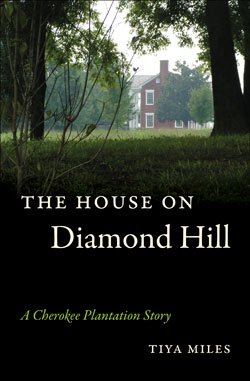 In her new book, "The House on Diamond Hill: A Cherokee Plantation Story," author Tiya Miles paints the most detailed picture yet published of the lives of the black slaves to the Cherokee. A professor at the University of Michigan, where the Harvard graduate teaches both Afro American and Native American studies, Miles has emerged as a leading scholar of relations between the Cherokee and African Americans in the early 1800s.
In this interview with Kenneth J. Cooper, she talks about how she became interested in the subject and mined the archives of Moravian Christian missionaries for details about slaves on the northwest Georgia plantation of James Vann and his son Joseph Vann, who in their day were the biggest slaveholders in the Cherokee Nation.
She also offers her opinion about the legal fight of the Cheorkee Freedmen, the descendants of the Cherokees' slaves, to restore their rights as tribal citizens under an 1866 Treaty.
Cooper is a descendant of Cherokee Freedmen. Some relatives by marriage were slaves to Joseph Vann after he relocated to what is now Oklahoma.
How did you get into this area of research? I don't know whether you have family connections.
Well, I started out in college doing Afro American Studies [at Harvard] and focused on literature. I did have an oral history from my family, coming from my grandmother, about Native American ancestry. But it was always pretty vague …
It really wasn't until I met my current husband, who is Native American. He's from Montana. He's Gros Ventre. It was really through our personal relationship that I started thinking more about the intersection of African America and Native America. So when I went to my Ph.D. program [at the University of Minnesota], I was lucky enough to be at a place where there is a very strong Native faculty and Native history focus.
Did you ever track down the family oral history?
I did not. I asked some questions of my grandmother and some older aunts and uncles. What I found was the story changed so much, there was so little consistency, I didn't feel comfortable about making any kind of claim about it. Maybe when I retire, I'll go back and do some more history and see what I can find out.
How does your new book help people understand the odd history of Native Americans holding slaves, which goes against the grain of many people's assumptions?
One thing that I try to do to make this history accessible and understandable is to put it in the context of American and also European colonialism. The Vann family slaveholding didn't just pop out of nowhere. It was connected to a long history of colonial oppression that Cherokees faced.
So before James Vann became one of the wealthiest slave-owners in the Cherokee Nation, he was a young boy in a Cherokee Nation that was just under siege in wars with England and the United States, trying to maintain its landholding. He was a young boy when the Cherokee Nation was crippled by smallpox, a disease that was brought to mainland North America from Europe. It doesn't lessen what he ended up doing to people with dark skins that he held in bondage. But I think it does show the pressure cooker that Cherokees were living under, how narrow their choices were.