Gov. Patrick has done it his way during first term
Associated Press | 10/27/2010, 5:31 a.m.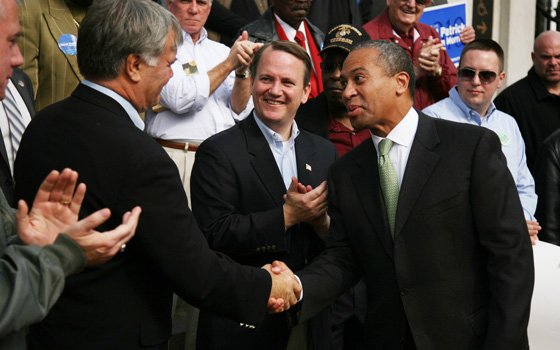 CHICOPEE, Mass. — Regrets, Gov. Deval Patrick's had a few, but most of all during his first term, he's done it his way.
The Democrat held his 2007 inaugural outside, in the January chill, despite tradition and warnings about bad weather. It turned out to be a brilliant day on the Statehouse steps.
He insisted on being "governor of the whole state," so he spent much of the next three years away from the Corner Office. It's given him street credit in places like Holyoke and Fall River and Gloucester.
And when the Legislature delayed in passing his ethics, pension and transportation bills last year, Patrick refused to sign a sales tax increase lawmakers needed to underwrite their budget. In the end, the House and Senate did what he demanded, much as they did this year.
By most measures, it's an admirable record, but it's not the whole story of this former corporate lawyer's first four years in elective office.
The man who chastised the "Beacon Hill culture" during his 2006 campaign has done much to embrace it.
He replaced the fresh-faced aides he first hired with a familiar cast of Statehouse veterans. He hired James Aloisi to be his transportation secretary despite his extensive links to the Big Dig. And he tried to put one legislator, Sen. Marian Walsh, in a $175,000 post that had been vacant, while his administration tried to boost campaign donors such as the New England Patriots and the Savings Bank Life Insurance Co.
Despite the worst recession since the Great Depression, the governor also has been a reluctant budget-cutter. He tapped the state's rainy-day fund before, as Republican opponent Charles Baker puts it, "it started raining." And recently, Patrick conceded he doesn't like to make cuts until absolutely necessary.
That partly explains why the state is facing a $2 billion deficit for the fiscal year that will begin July 1, 2011 — an impending train wreck that still hasn't elicited much response.
And in a small but symbolic transgression, Patrick's staff has wholly adopted the Statehouse tactic of releasing bad news on Friday afternoons, when it often will be missed by people wrapping up their workweek and heading into the weekend.
"Together We Can" sometimes yields to "I Hope Nobody Notices."
The 53-year-old Patrick himself agrees he's become a more wizened politico.
"I think I have learned to call the point at which there's not going to be compromise sooner," he said lastThursday in Chicopee, a western Massachusetts city where he traveled for the 15th of 16 gubernatorial debates this campaign. "I'm very interested in trying to find common ground, but when it's clear there's not going to be common ground, I can call that sooner and then just press ahead."
State lawmakers notice the transformation, as well.
"As governor, you're by yourself, and you have to utilize the powers the constitution gives you, and he has learned to wield them effectively," said Sen. Steven Panagiotakos, a Lowell Democrat who is retiring after serving as chairman of the budget-setting SenateWays and Means Committee throughout Patrick's term.