All in the blend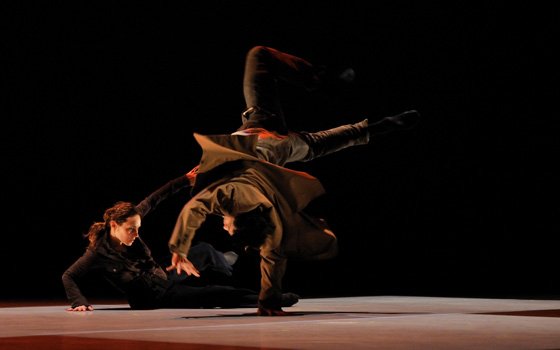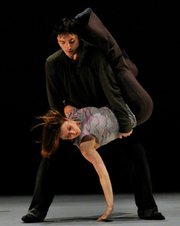 RUBBERBANDance Group blends hip-hop, free-style, breaking and, yes, ballet


Blending b-boy bravura with the grace and expressiveness of ballet, the RUBBERBANDance Group made its Boston debut Friday night at the Institute of Contemporary Art/Boston.
Cross-breeding contemporary dance with the low-to-ground, edgy moves, posturing forms and freezes of hip hop and breaking, the RUBBERBANDance Group distills the dual strains in the lineage of its founder and choreographer, Victor Quijada, and his artistic co-director Anne Plamondon.
Trained at the National Ballet School of Canada, Plamondon danced with Les Grand Ballets Canadiens, where she met Quijada. A self-described "hip hop freestyler," he joined the company after graduating from Los Angeles County High School for the Arts and studying with such contemporary dance icons as Twyla Tharp and Eliot Feld.
Grounded in the deeply social nature of breaking, with its dual dynamic of rivalry and bonding, Quijada and his company infuse ballet with a street-wise aesthetic born of the testing and trading games that are also at the root of jazz and tap dance.
Presented by World Music/CRASHarts, the Montreal-based company gave three performances last weekend in the ICA's intimate 325-seat theater, which was just right for the pared down touring production. While the company has often employed elaborate, multi-media staging, its long-time collaborators, particularly lighting designer Yan Lee Chan, put the focus on the sinuous ballet-meets-breaking moves of the superb dancers — Quijada, Plamondon and their five-member ensemble.
Chan's spotlights sculpted their bodies, framed them in angular shafts of light, cast geometric shapes on the stage floor, and projected subtle backdrops in an otherwise dark and prop-free stage. The soundtrack by composer, battle DJ and turntablist Jasper Gahunia spanned Vivaldi, Stravinsky, jazz and scratch.
Attired by costume designer Anne-Marie Veevaete in low-key workout garb, the ensemble performed a 70-minute program entitled "Loan Sharking," that borrows from four works choreographed by Quijada over the first decade of his company, which he founded in 2002.
Although breaking is a male-dominated world, Quijada and his company treat the need to prove oneself within a cipher, or circle, as an equal opportunity challenge for both women and men.
Their dance vocabulary draws on breaking's demanding full-body arsenal of acrobatic spins, tumbles, handstands and gestures of one-upmanship as well as martial arts moves and the bonding and mating language of street and club dance. In Quijada's choreography, these elements translate into elegant and lyrical body talk — but retain their primal force.  
The evening began with three short vignettes. "Dr Ib Erf" (2008), explored the craggy sonic landscape of Igor Stravinsky's 1910 ballet score "The Firebird." The dancers accompanied its jagged passages with pinwheels, tumbles and whirls; matched its abstract moments with robotic gestures and angular body wraps; and partnered ballroom-style to its melodic refrain.
Making split-second shifts in mood and momentum, they went from airborne spins to slow-motion arabesques in which they seemed to be pushing their way through heavy air.
In "Soft watching the First Implosion" (2005), the group's three men — Quijada, Elon Höglund and Daniel Mayo — showcased b-boy lyricism to Antonio Vivaldi's "Cello Concerto in A Minor." Light swathing his body, Quijada was magnetic as he made serpentine leaps to the soulful 18th century melody.