What about the children?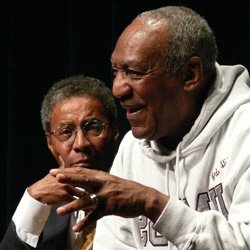 A decision by the Judge Baker Children's Center raises questions
Dr. Alvin F. Poussaint is no stranger to fighting for the powerless.  
Best known for his critical role as consultant to the "The Cosby Show" and "A Different World," Dr. Poussaint, a professor of psychiatry at Harvard Medical School and faculty associate dean for student affairs, has used his medical training first during the civil rights movement desegregating hospitals throughout the South and later as an advocate for children and families throughout the world.  
It's no surprise then that as director of the Media Center at Boston's Judge Baker Children's Center, that he would be an influential voice. Such was the case with one of the Media Center's programs, the Campaign for a Commercial-Free Childhood  (CCFC).
Over the years, the campaign successfully fought against McDonald's ads on school report cards, piped-in music and ads on school buses, and violence laden TV commercials for PG-13 movies. But it's greatest success came last year after its battle against the Walt Disney Company and their "Baby Einstein" videos.  
According to a 2003 study, a third of all American babies from 6 months to two years old had at least one "Baby Einstein" video. It was estimated that "Baby Einstein" controlled 90 percent of the baby media market and sold $200 million worth of product annually.
All this despite the American Academy of Pediatrics recommendation that children under 2 should not have any screen time at all. Armed with such scientific data, the campaign went to the Federal Trade Commission last year and won an important concession — Disney agreed to drop "educational" from their marketing.
The campaign didn't stop there. Two years ago, lawyers threatened a class-action lawsuit for unfair and deceptive practices unless Disney agreed to refund the full purchase price to all who bought the video since 2004. Disney agreed, prompting the New York Times to describe their decision "a tacit admission that ["Baby Einstein" videos] did not increase infant intellect."
And that's when the multi-billion dollar media conglomerate made several telephone calls to the Judge Baker Center.
Before long ­— and without much fanfare — Judge Baker officials called Poussaint and Campaign Director Susan Linn to their office to share some surprising news. Instead of congratulating the two on protecting the interest of children, Judge Baker officials showed them the door.
"The Judge Baker staff informed us they didn't want us to talk to the press, or to say anything about Baby Einstein," Dr. Poussaint told The New York Times. "They suggested to me that Disney was threatening to sue Judge Baker."
Whether Disney threatened to sue Judge Baker remains unclear. What is clear is that Poussaint and Linn were asked to leave the Harvard affiliated center that had housed it for more than a decade. Poussaint said he was "shocked."  
"They told us that they were uncomfortable with our aggressiveness," Poussaint said. "So they punished us."
The timing could not have been worse. The eviction notice came in January as the Baker Center was preparing to honor Dr. Poussaint in February at its $250-a-ticket "World of Children" gala in Boston.