Arts
10/12/2010, 11:01 a.m.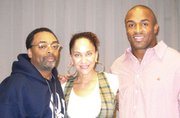 Just flew in from celebrating the holiday weekend in Los Angeles with my friend Keli Davis. We couldn't have picked a more beautiful weekend to be out there. The weather was just gorgeous and we had a blast sightseeing, shopping and meeting up with friends. We hung out at The Grove in L.A., the pier in Santa Monica, and, of course, did a scenic drive up the Pacific Coast Highway through Malibu.
The only celebrity sightings on this trip included Lionel Richie on Rodeo Drive, (sadly, he didn't belt out "Hello" to me) and actor Jon Tenney from TNT's "The Closer" strolling through The Grove. But before I hit L.A., I had a busy week here in Boston.
Exhale Magazine launch party
Banner Publications, Inc. and Huntington Theatre Company hosted a launch party at the Calderwood Pavilion at the Boston Center for the Arts, for the fall 2010 issue of "Exhale," the new women's health and lifestyle magazine.      
It was a fabulous party that featured an eclectic and diverse group of women (and a few men) from Ayanna Pressley, Geri Denterlein and Jacqui and Wayne Budd to Lisa Simmons, Erin Duggan, Digna Gerena and Marina Kalb of Portobello Road.
The guests mixed and mingled and were able to shop from such boutiques as Chestnut Hill's Portobello Road.  Plus, there was a special performance from Company One's Summer production of GRIMM with Exhale cover model and playwright Lydia R. Diamond's adaptation of "The White Bride and the Black Bride." In honor of Breast Cancer Awareness Month, WCVB-TV's Kelley Tuthill hosted the event and the fabulous Elisha Daniels were on hand with their book "You Can Do This!  Surviving Breast Cancer without Losing Your Sanity or Style." Proceeds for the book sale were donated to the Ellie Fund.
YWCA Breakfast at the Back Bay Events Center
I was invited to attend the YWCA's annual "Elevating Lives Breakfast," which despite the early time of 8 a.m. (for me), it was very informative. I didn't really know anything about the organization and my impression was that it really wasn't relevant to today's woman.
Boy was I wrong.  In fact, the mission of the YWCA is dedicated to eliminating racism, empowering women and promoting peace, justice, freedom and dignity for all. Founded in 1866, YWCA Boston is America's first YWCA.
Today's YWCA provides critical direct services in the community. They include mobile health and wellness education for women and girls; breast cancer survivor support; adult, interracial community dialogues; youth civic engagement, and financial literacy programs for working women.  
The YWCA raised $52,000 and well over 200 guests attended the breakfast. Some of the wonderful women who supported the breakfast included: Marilyn Anderson Chase, Kathy Murphy, Christy Egun, Rhian Gregory, Carla Bettano, Sandra Sims-Williams, Liz Gruber, Yvonne Garcia, Jeanette Beltran, Lisa Pickard, and Stephanie Millon.
Eric Benét
I saw Eric Benét last year at the Berklee Performance Center and loved the show. When I heard that he was coming back to town (this time at Showcase Live in Foxboro) I knew I wanted to see him again. I had the chance to get a "sneak listen" to his new album "Lost In Time" along with a sit-down one-on-one interview. Here's what the Grammy nominee had to say about his latest project.