Activists rally in Hyde Park to keep affordable housing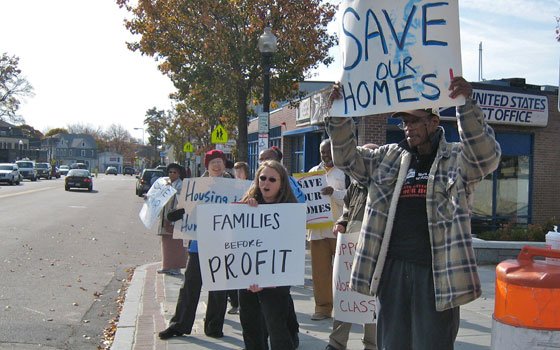 The Massachusetts Alliance of HUD Tenants (MAHT) rallied in Hyde Park last month to call for legislation to protect low-income tenants from dramatic rent increases and to bring attention to the loss of affordable housing units in Massachusetts.
About two dozen tenants of privately owned housing developments assisted by U.S. Department of Housing and Urban Development (HUD) subsidies waved "Save our homes" signs to passing traffic on Hyde Park Avenue before convening for a brief program of speeches in Cleary Square.
"We're here to say we need more legislation to save our homes at the federal, state and city level, so people can live in comfort and security with their families," said MAHT Executive Director Michael Kane.
Massachusetts has lost more than 6,555 federally subsidized housing units since 1996, according to MAHT. The affordable units disappear as private owners opt to convert subsidized apartments to market-rate rents when their HUD-assisted mortgages expire. Another 19,000 units statewide could be on the chopping block through 2012, Kane said, as a large number of HUD mortgages originating in the 1970s come to maturity.
At nearby Georgetowne Homes in West Roxbury, Kane said, 286 families could see their rents increase by hundreds of dollars in April 2011. Other once-affordable developments in the area have been converted to 100 percent market rate. High Point Village in Roslindale went to market rate last year, depleting the city's affordable units by 540 as it became the tonier Stony Brook Commons.
Kane is also executive director of the National Alliance of HUD Tenants (NAHT). The national group has proposed an amendment to the HUD appropriations bill for fiscal year 2011. The amendment would make more tenants eligible for the "enhanced vouchers" that help when rents rise after HUD contract expiration.
Under current law, tenants who are already aided by Section 8 — the federal Housing Choice Voucher Program — can receive enhanced vouchers, which provide larger subsidy amounts to cover the higher rents when an owner converts an affordable development to market rate. But low- and moderate-income people who now pay reduced rent through other arrangements are not eligible for the vouchers. These tenants are caught in the middle, with no protection when owners convert to market rate.
The proposed amendment would apply only to buildings whose mortgages expire in 2010 and 2011, so it is a stopgap measure — but an urgent one, Kane emphasized.
"We have a chance to get this amendment passed," said Kane at the rally. "We're trying to salvage something by getting enhanced vouchers for Georgetowne tenants, who could be facing the street. They are facing rent increases overnight, come April," he said.
Howard Cohen, CEO of Beacon Communities, which owns Georgetowne Homes, said in a telephone interview that the company is not planning to convert to market rate, but instead maintain a low- and moderate-income development.
"We had the right to start raising rents last April 1. We froze them," he said. "We're working on a backup plan [in the event that enhanced voucher legislation doesn't pass] so that residents don't face unacceptable rent increases."