The talented Mr. Ryan Williams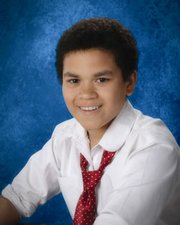 A boy soprano featured with the Boston Symphony Orchestra  (BSO) rushes the same night to perform with the Boston Lyric Opera. If this sounds like an artsy take-off on a madcap Hollywood comedy, think again.
Ryan Williams, a 13-year-old chorister at Trinity Church just did exactly that. An eighth-grader at the Christa McAuliffe Regional Charter Public School in Framingham, Williams sang as one of four soloists in the BSO's recent performance of the Manuel de Falla scenic orchestral cantata "Atlantida" and then played the jailor's son in the opening night of the BLO's season-opening "Tosca."
Although Williams found the evening exciting, he also took it remarkably in stride for a young performer. Recently he spoke to the Banner about his unique opportunity, the De Falla and Puccini works, his wide-ranging musical experience and his budding career.
While very enthusiastic as a singer, the busy performer hails from a fairly musical family. His mother Kim Ellwood, who bears German and English ancestry, mentioned that her husband Ron Williams, of African American, Cree and Scottish origins, is a veteran baritone. Older brother Matthew used to sing at St. Thomas School in New York.
Family standards notwithstanding, Williams has diligently pursued musical training and knowledge with remarkable self-motivation. Three times a week, Williams practices at the Trinity Church. "They have a chorister program," he noted. "They make you study music theory there."
The knowledgeable choir actually toured England in August. Boasting credits that already include roles in German and Italian as well as English, he admitted that it was not very hard to pick up any of the languages.
Williams proved as unassuming about his developing career as about his training. "Being more experienced," he explained, "gets you into more singing. [Then] people see how much you know, and that helps get more roles, too."
That has very much been the case for Williams. Trinity Choir Director Richard Webster recommended him to sing the role of Miles in BLO's "Turn of the Screw," while BSO artistic director Anthony Fogg asked him to sing the part of a youth in "Elijah." After his work in the BSO's performance of Mendelssohn's "Elijah," he said, he was asked to sing with the BSO again in the DeFalla work.
Throughout his already considerable experience, he has warmed to his roles and the music. Williams spoke articulately about the insights he has gained from directors and fellow performers. Stage directors, he found, work on "what to feel before I sing." Music directors often advise "what to do to make it easier to sing."
At the same time, the relatively seasoned young performer seems to find it easy to get to the heart of his roles. In "Atlantida," a mythological account about Atlantis and the creation of the Atlantic Ocean, he sang two "small but important" solos- one "like a mini-narration" and the other  "introducing the melody of what Queen Isabella sings about her dream to King Ferdinand."
Of his role as the jailor's son in "Tosca," he said, "I (the character) feel that I'm trapped in this place (the execution area). I (the jailor's son) sleep in the day and work until the morning." Speaking with the wisdom of an adult, he continued, "It's moving. It's a child cleaning up blood after an execution and yet singing a beautiful melody."