'An Actor and a Gentleman'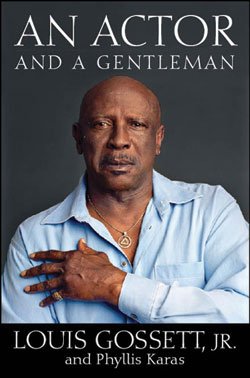 Louis Gossett, Jr. knows a thing or two about Hollywood; his autobiography shares many of those personal stories
In his autobiography, "An Actor and a Gentleman," Louis Gossett, Jr. summons his great-grandmother, Ms. Bertha, into being with a story about her waving a smashed finger at him for being a cocky teenage boy. Ms. Bertha, who lived to 112 years old, had gotten her finger smashed by a wagon wheel as a child while avoiding a stampede of slaves who had just learned that they were free. Calling the finger his great-grandmother's "badge of honor," Gossett is one of very few African Americans living today who actually met a former African American slave.
Among the other topics discussed in his autobiography is the deep awareness of the blatant attacks on black men in Los Angeles and the prejudice within the Hollywood film and television industry. He also talks about coming to terms with addiction and fear, and finally launching the Eracism Foundation to counter racism, ignorance and violence.
Best known for his Emmy-winning characterization of "Fiddler," the slave in the African American historical drama "Roots," Gossett's acting career began at the age of 17, when he played opposite Sidney Poitier and Ruby Dee in Lorraine Hansberry's "A Raisin in the Sun."
His next role would be as a leading actor on the TV movie, "Companions in Nightmare." He has starred in dozens of films and has won numerous awards including an Academy Award, an NAACP Image Award and a Golden Globe Award for his role as Gunnery Sergeant Emil Foley in "An Officer and a Gentleman," which co-starred Richard Gere.
With close to 60 years of experience in the Hollywood film and television industry, Gossett has a lot to say about his journey in "An Actor and a Gentleman," which he wrote to set the stage for what he calls "the fourth quarter" of his life.
Mr. Gossett, how does it feel to be the first African American person to win something in a category? Because of people like you, fewer of us will be the first.
Well, we just recently got the first African American president.
That's true.
So you can never think about never. You've got to keep an open mind, and don't worry about being the first person this, first person that — just do your thing. I never thought about being the first African American anything. I just had an aspiration and I had to get rid of the blocks to it. Remove all the things that kept me thinking that I could not reach it.  I just had to get rid of all of those, and after that the sky was the limit.
How did you get rid of them?
There are certain things you need to do. You need to pray. You have to look at things that are keeping you from doing that; and get rid of those fears — fears are major!  It's a major block of the inspirations and aspirations of doing anything. Especially when you come from a certain area, and you don't see anybody else making it.  I just did a movie, a very good quality movie, and Sony's going to put it out. It's called "The Lamp," and the story is about this couple that lost their child and they blame themselves. And one of the themes in the movie is that sometimes the lot of us lose sight of what the truth is because of television or society or the places we live, and we begin to embrace the lie. Slowly but surely we start to believe that lie, and then that lie slowly becomes the truth. Then we look up one day and our whole life has been based around that lie.