Writer Maya Angelou sings about her love of books
Associated Press | 11/2/2010, 11:22 p.m.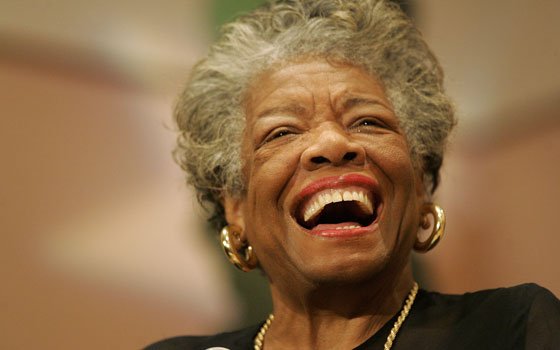 NEW YORK — In her low husky voice, Maya Angelou came out singing about her love of books and libraries in an African American rendition about a rainbow.
Friday's occasion marked the official announcement by the Schomburg Center for Research in Black Culture in Harlem of its acquisition of some 340 boxes of her personal papers. The center is part of the New York Public Library.
"God put the rainbow in the clouds ... so the viewer can see the possibility of hope. That's what a library is," said the 82-year-old poet, author and dramatist as she finished the song based on Genesis.
The author of "I Know Why the Caged Bird Sings" walked with difficulty on stage. But once seated, she regaled the audience with reminiscences of her Arkansas childhood and friendships with such 20th century powerhouses as novelist James Baldwin and civil rights activist Malcolm X.
Angelou said she was eight years old and a "voluntary mute" after she was raped at age seven when a teacher at her all-black school showed her the library and said, "I want you to read every book in this room." She did — all 200-300 of them.
"No bad can happen to you in the library. You can't be raped or mugged in a library. You can't be talked down to, belittled, humiliated in the library," she said. "As soon as I'm in a library, I'm OK."
The first time she entered the grand New York Public Library on Fifth Avenue with its sweeping staircase and rooms where she could "read what happened in China in the 4th century," she was bowled over, she said.
"It still makes me weak in the knees to think that I can go into any library in the world and nobody can keep me out," she told the AP.
The decision to house her papers at the Schomburg — the world's largest repository of material on people of African descent — was "so easy," said Angelou, who's donated other material there over the years, including a collection of letters from Booker T. Washington and Frederick Douglass.
As the Schomburg's national membership chair, she's raised $7 million, said library Director Howard Dodson.
Angelou recalled for the audience how the books at her Arkansas elementary school, which were donated by whites, were often coverless and tattered. But by the time she and her classmates were done with them, decorating them with cotton and pretty cloth, "the books were so beautiful," she said.
She recounted how an English friend whose father was a famous Communist and friend of Paul Robeson gave her tapes of the actor-singer in concert supposedly in Hungary, knowing how much she loved African Americana.
Angelou said she couldn't get anyone in her home state of North Carolina to transfer the tapes into film so she turned to Dodson. It was Dodson, she said, who discovered that the concert was not in Hungary at all but taped at a church in New Jersey after Robeson's passport was revoked for his political views in the 1950s. The tapes were then smuggled out of the country, she said.