Bloodied, but unbowed
Yawu Miller | 11/2/2010, 11:15 p.m.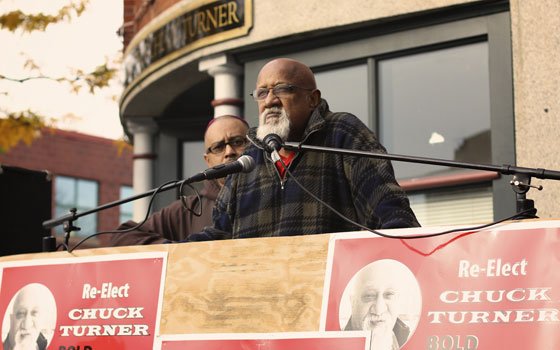 Boston City Councilor Chuck Turner vows to keep organizing despite guilty verdict in his federal corruption case
Just hours after a jury returned a guilty verdict in the federal corruption trial against City Councilor Chuck Turner Friday, he was back in his Roxbury office conferring with staff and volunteers about keeping the constituent services operation open at least until sentencing takes place in January.
Many of Turner's constituents and colleagues on the council expressed surprise that the jury found the 70-year-old veteran community activist guilty of one count of accepting a bribe and four counts of lying to FBI agents. As supporters gathered in his office, he urged them to remain upbeat.
"My attitude is that I'd like to continue serving on the city council," he told the 20-or-so supporters milling in the storefront office. "You don't always get what you want. You just have to keep on. If I'm not here, other people have to keep moving on."
Outside his office a gentle rain fell on Roxbury while other parts of the city received sunlight. Stepping out into the rain, Turner said the verdict hasn't dampened his spirits.
"I'm feeling good," he commented. "My attitude is I'm here on earth to be of service. I ran for counselor at 59, not because I wanted to be a career counselor, but because I thought I could move my work forward as a city councilor. If they send me to jail, I'll continue to organize as a prisoner."
Turner's trouble with the FBI began in 2007 when Ron Wilburn, a confidential witness who was paid $29,000 by the FBI to conduct a sting operation, visited his office and allegedly gave Turner $1,000 while trying to obtain a liquor license. Turner said Wilburn never gave him money.
Much of Turner's trial hinged on a grainy surveillance video prosecutors said showed Wilburn handing off cash to Turner. While similar surveillance videos taken of former state Sen. Dianne Wilkerson clearly showed cash being handed off, Wilburn's video of Turner was less than convincing.
Turner's lawyer, Barry Wilson, questioned the credibility of the FBI and Wilburn. But Turner seemed to undermine his own case by taking the stand against Wilson's advice. Cross examined by prosecuting attorney John McNeil, Turner testified he didn't remember his meeting with Wilburn.
In another surprising twist, Wilson said during closing arguments that Turner did accept cash, but that Wilburn pocketed $800 and gave Turner $200.
In December, Turner will face a City Council vote to expel him from the body in accordance with a 2009 rule passed, barring councilors convicted of a felony from serving. Turner said he would lobby his colleagues to keep him on the council until his sentencing, which is scheduled for January.
But City Council President Michael Ross said in a prepared statement that the council will soon hold a vote.
"The residents of District 7 are of paramount concern to myself and my colleagues and whatever occurs we will make sure that they continue to receive the high quality of constituent service they have come to expect from Councilor Turner's office," Ross wrote in his statement.