US drug war has met none of its goals
Associated Press | 5/19/2010, 5:58 a.m.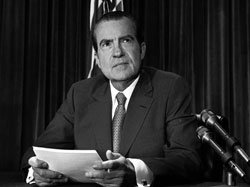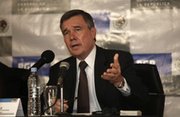 (Top) President Richard M. Nixon launched a  war on drugs campaign in 1970 but, 40 years later, both Mexico and the U.S. goverment admit that the war on drugs is a failure. (AP Photo/C.W. Harrity)
(Middle) Two municipal police officers embrace after they were ambushed by unknown gunmen in the northern border city of Ciudad Juarez, Mexico, Friday April 23, 2010. At least five federal policemen and one municipal police officer, as well as a 17-year-old girl who was passing by, were killed in the ambush, according to police authorities. (AP Photo/Javier Manzano)
(Bottom) Gil Kerlikowske, director of the White House's Office of National Drug Control Policy, is seen here during a news conference in Mexico City, Monday July 27, 2009. (AP Photo/Dario Lopez-Miller)

MEXICO CITY — After 40 years, the United States' war on drugs has cost $1 trillion and hundreds of thousands of lives, and for what? Drug use is rampant and violence even more brutal and widespread.
Even U.S. drug czar Gil Kerlikowske concedes the strategy hasn't worked.
"In the grand scheme, it has not been successful," Kerlikowske told The Associated Press. "Forty years later, the concern about drugs and drug problems is, if anything, magnified, intensified."
This week President Obama promised to "reduce drug use and the great damage it causes" with a new national policy that he said treats drug use more as a public health issue and focuses on prevention and treatment.
Nevertheless, his administration has increased spending on interdiction and law enforcement to record levels both in dollars and in percentage terms; this year, they account for $10 billion of his $15.5 billion drug-control budget.
Kerlikowske, who coordinates all federal anti-drug policies, says it will take time for the spending to match the rhetoric.
"Nothing happens overnight," he said. "We've never worked the drug problem holistically. We'll arrest the drug dealer, but we leave the addiction."
His predecessor, John P. Walters, takes issue with that.
Walters insists society would be far worse today if there had been no War on Drugs. Drug abuse peaked nationally in 1979 and, despite fluctuations, remains below those levels, he says. Judging the drug war is complicated: Records indicate marijuana and prescription drug abuse are climbing, while cocaine use is way down. Seizures are up, but so is availability.