Kerry, Menino announce $2.6 million for Boston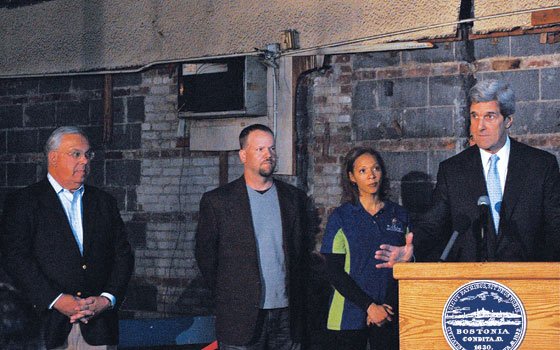 It was appropriate that U.S. Sen. John Kerry and Boston Mayor Thomas Menino announced a bit of good news at the site where Foodie's Market owner Victor Leon plans to open his second urban supermarket next spring.
Leon's business will be aided by a $150,000 loan from the city, made possible by the American Recovery and Reinvestment Act (ARRA) signed last year by President Barack Obama. The 7,700-square-foot building in South Boston became vacant when the American Nut and Chocolate Company moved to Roxbury in 2007.
The new Foodie's store is expected to create 35 to 40 permanent jobs as well as a number of construction jobs during the building process. City officials predict as many as 600 jobs will be created by a variety of small businesses and mixed-use developments that will open or expand because of the stimulus money.
In all, the City of Boston is investing $2.6 million of federal stimulus funds in Boston's small business community over the next six months.
"Putting people back to work is our top priority," said Menino. "Jobs give families stability. Jobs give neighborhoods vitality and strength. We know that some of the best solutions to jobs lie in our local economy, and that's what we're celebrating today."
The $2.6 million to be given out by the fall of 2010 represents nearly half of the direct Community Development Block Grant funding received by the city's Department of Neighborhood Development (DND), said DND spokesperson Lucy Warsh.
The other major areas of focus for stimulus money have been affordable housing developments, foreclosure stabilization efforts and homelessness prevention, she said.
Sen. Kerry praised Menino, whom he dubbed the "Mayor for Life," for his part in bringing federal funds to Boston.
"He's a pleasure to work with because he knows what the priorities are," said Kerry, "and he's not bashful about making sure we know what they are."
Other small businesses benefiting from the ARRA funds and represented at the May 8 event include Edible Arrangements in South Boston, the South Boston Running Emporium, Juba Market and Café in Roxbury and several restaurants: Al-Wadi in West Roxbury, Deux Ave Restaurant and Bar in the Back Bay and The Hyde in Hyde Park.
Toya Farrar is slated to receive a loan of $50,000 to help pay for relocating her Edible Arrangements shop within South Boston from E. Broadway to W. Broadway and to help with monthly rent for the first year in the new space. She said she will have seven years to repay the loan.
For Abdul Hussein, the federally funded loan has already made a difference. His business, Juba Market and Café near Roxbury Crossing, opens officially in two weeks.
"We're in the final stages of completion," Hussein said. "The funds enabled us to finish the project." He expects to hire two employees right away, and possibly two more in the future.
Deputy Director Rafael Carbonell of the DND's Office of Business Development said his office placed a priority on neighborhood-based businesses that provide a service to the local community. They looked at the viability of applicants' business plans, he said, and also at how much money the applicants could put in. He pointed out that the loans are not intended to fund projects fully.