Banner Biz QandA
5/5/2010, 5:30 a.m.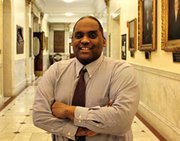 As Assistant Secretary for Access and Opportunity, Ron Marlow knows about opening doors at the Massachusetts Statehouse.
Q: Why did Gov. Deval Patrick create the Office of Access and Opportunity?
A: In 2008, when Gov. Deval Patrick authorized the creation of the Office of Access and Opportunity ("OAO"), he said, "The people of Massachusetts deserve transparency and accountability from their government. By helping to ensure that rights, protections, privileges and responsibilities of citizenship are accessible to all who live here, this effort will help us to continue to build a better commonwealth." The OAO was created primarily to prevent racial, religious and gender discrimination in the executive branch of government and to provide equal opportunity.
Q: What is its intended function?
A: The OAO has three primary functions: (a) to ensure that all individuals, irrespective of race, ethnicity, gender, religion, disability, national origin and veteran's status have an equal opportunity to work for the executive branch; (b) to ensure that small businesses, but especially minority-owned and women-owned businesses, have an equal opportunity to serve as vendors to the commonwealth; and (c) to ensure that state programs, activities and services are operated in a non-discriminatory manner and promote equal opportunity.
Q: Why was it established in the Executive Office of Administration and Finance?
A: Placement within the Executive Office of Administration and Finance affords OAO an ability to exercise its authority across the entire executive branch, while, at the same time, working to imbed effective policies in the day-to-day functioning of the executive branch. 
Q: What are the special difficulties confronted by minority businesses in Massachusetts?
A: Minority businesses face multiple difficulties, some of which they share with other small businesses and some of which are particular to them because they are minority-owned. These include access to capital, access to surety bonds and access to technical assistance. Also, complete and equal access to state contracting opportunities, while much improved, continues to present challenges to minority businesses.
Q: What policies has your office developed to assist minority businesses?
A: The OAO has developed a number of policies to improve the contracting environment for minority and women's businesses (MBE/WBE). Some of the policies already implemented include:
• Established MBE/WBE utilization goals for the Accelerated Bridges Program
• Recommended establishment of a technical assistance and capacity building program for MBE/WBE/DBE firms on ARRA-funded construction projects and development of a surety bond guarantee program to facilitate MBE/WBE participation on ARRA-funded projects
• Wrote the legislative language to establish the technical assistance and capacity building program and secured the funding for the State Office of Minority and Women Business Assistance to deliver these services
• Wrote the legislative language to establish the surety bond guarantee programs of 2009  
• Secured the funding to capitalize the surety bond guarantee program
Q: What achievements inspired the U. S. Small Business Administration to name you their 2010 Minority Business Champion for Massachusetts and New England?
A: I was merely a surrogate for the leadership and commitment of Gov. Patrick, Secretary Jay Gonzalez and many others in the administration on the issue of inclusion. The data tells the story. State spending with MBEs has improved each of the first three years of this administration. Spending on goods and services with MBEs is up 4.3 percent; spending on construction with minority contractors is up 26.7 percent; spending on design services with minority contractors is up 51.8 percent; and overall spending with MBEs is up 10.2 percent. Spending with MBEs now represents 6.9 percent of all discretionary state spending. In fiscal year 2009, the state spent approximately $301.5 million with MBEs. However, we believe that we can do more and do better, especially in those contracting areas where there is little minority business presence.
Q: What changes would you propose to make the work of your administration more effective?
A: Additional time, preferably four more years! History teaches us that it takes time for changes to take effect within a large bureaucracy, but even more time is necessary for them to take hold and become common practice. There is more that we can do and more that we will do. It cannot be understated that the ability to bring about lasting change is closely connected to sufficient time to make it happen.