Raising the bar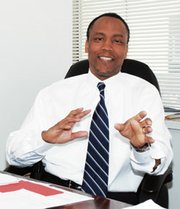 Anthony Samuels has quietly taken his Done Right Building Services company to lofty new heights
A year after he left his job as a computer-assisted draftsman with Raytheon, Anthony Samuels was having second thoughts.
By then, he had started his own building maintenance company and committed his savings and credit to keep the struggling business up and running. But something had to change. He realized that managing day-to-day operations drained most of his time. As a result, he was unable to attract new business to add to the one contract he had with BankBoston to provide building services at a few of its branches.
Done Right needed help. But first Samuels had to make an admission. It came after he met one of his business advisers from the Small Business Administration.  "He said to me, 'If you're out doing the work, you're not running your company right,' " Samuels recalled in the venerable Black Enterprise. "I was upset at first, but I eventually realized that what he said was true."
Done Right hasn't looked back since. Samuels  quickly recruited the appropriate staff and arranged for supervision of the work and on-site operations. The results were almost immediate.  
By 1996, his annual sales almost tripled. Ten years later, those numbers were up to $4.3 million. Though the recent recession slowed business down last year, Done Right has still averaged about 15 percent annual growth in revenues over the last five years. More importantly, he has about 130 employees in facilities located throughout Massachusetts, New Hampshire, Vermont, Connecticut and New York.
Samuels attributes his success to a time-honored principle. "The bottom line," Samuels said, "is that we provide quality to all of our customers. We try to deliver above and beyond what the client expects in our services."
Over the years, Samuels has been able to secure nearly a dozen federal, state and city government contracts and quietly built a client base throughout New England that included the Jewelers Building in downtown Boston and the Massachusetts Port Authority.    
It hasn't been easy.
Samuels got his first big chance to deliver when he started working with Boston City Hall.
It was at least a start — and a chance to show off his services. Over the years, Done Right has been able to build a successful relationship with City Hall, one that has expanded to include providing building services for the Boston Redevelopment Authority as well as the Strand Theater in Upham's Corner.
Another early contract that allowed Done Right to grow was with the Massachusetts Water Resources Authority to clean and maintain more than 300,000 square feet of office space at the authority's Deere Island facility.
Those opportunities, he said, allowed Done Right to demonstrate that it did quality work.
What has made Samuels particularly proud is his company's ability to expand while maintaining good relationships with existing clients. Just last year, for instance, Done Right was able to renew its contract with City Hall for another three years. And Samuels continues to attract new business at a time when other companies are closing their doors.