Local musicians give youngsters a taste of jazz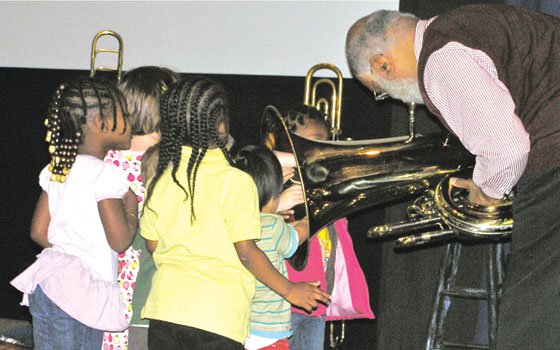 About 60 members of the toddler and preschool set were treated last week to a lesson in the sounds of jazz at the Boston Public Library.  
"Riffs and Raps — Jazz for the Very Young" was part of Jazz Week, a series of concerts and programs presented by JazzBoston, a nonprofit group with a mission to expose audiences of all ages to jazz and to promote Boston as a great jazz city.
A group of 3- to 5-year-olds from South End Head Start, along with a handful of other children accompanied by their parents or caregivers, perched on auditorium seats or sat right up onstage as local jazz musicians Arni Cheatham and Bill Lowe gave an interactive presentation.
Cheatham introduced his "family" of saxophones, including Tyrone the Tenor Saxophone and his sister, Sally the Soprano, showing how the size of an instrument affects its sound.
The audience showed its appreciation with squeals and giggles.  
There's no sound without vibration, he told them. To illustrate, he invited the kids to place a hand in the saxophone's bell and feel the vibration as he played a low note.
"I feel it!" yelled the first child. Others leaped up and down with excitement. Cheatham paced up and down the aisles and moved between the rows of seats to make sure every child had a turn.
Next Lowe unveiled his trombone and tuba. He pointed out how the instruments' tubes are curved and coiled. Cheatham quizzed the audience on how long the tuba's tube would be if it were stretched out straight. He said it would be 16 feet.
Instruments play better together than alone sometimes, Cheatham said.
"Just like you and your friends talk to one another, these instruments can have conversations," he explained. Some of the children started dancing as the men played a tune together.
"Okay, before we wrap up, I want to show you one more thing," said Cheatham, holding up a plastic drinking straw. "I told you about the reed and vibration — but you can make a vibration with a straw, too." He crimped the straw and blew into it.
With scissors, he snipped the straw so it became shorter and shorter, demonstrating how the pitch became higher with each snip. The kids lined up to receive their own straw horns from Cheatham.
Lowe and Cheatham, both of whom have been involved with the jazz scene for decades and play with numerous ensembles around town, have been presenting "Riffs and Raps" for three years now.
Pauline Bilsky is the executive director of JazzBoston. She said the children's show, presented in partnership with the Boston Public Library, is part of a family of educational programs her organization has designed. This year's Jazz Week also included a "Riffs and Raffs" program for seniors.
And JazzBoston has piloted a five-week after-school program for middle school students in partnership with the Boys and Girls Clubs of Boston. Bilsky said they are seeking funding to expand that program to reach more teens in more locations.
For Lowe, the joy of the children's show lies in how open young children are and how much they love learning. Early music education lays a necessary foundation for their future development, he believes.
"If we start telling them about music and about life and about being human at an early age — it goes right to the heart," he said. "That's what kids need. That's what we all need."