On a mission: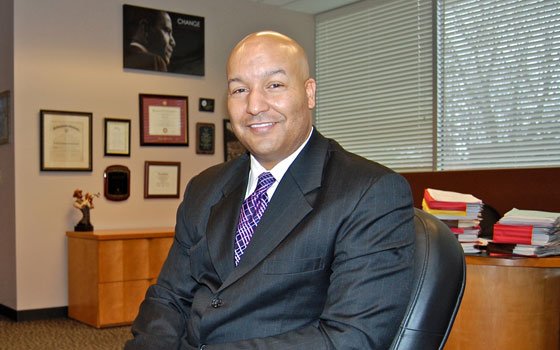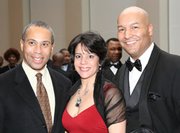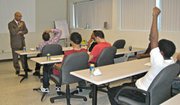 The convicted murderer faced the parole board humbly. In Levi's jeans, a pressed blue shirt and shackles, Stephen Emmons read from a statement hand-written on a sheet of yellow legal paper. His crime —beating his girlfriend to death in a drug-blurred rage 15 years ago — is on his mind every night as he goes to sleep, he said.
Massachusetts Parole Board Chairman Mark Conrad led the questioning. He addressed the inmate respectfully and listened intently as Emmons recounted the events of the killing. Yes, he struck her. Then she hit her head on the wall.
"The autopsy showed broken ribs," noted Conrad.
"I tried to give her CPR," Emmons said.
Conrad probed the inmate's history of drug addiction, shoplifting, prior domestic violence incidents, incarcerations and parole violations, and then addressed the inmate's time in prison and possible future outside of prison.
As five other board members took their turns, the questions grew sharp; the faces, skeptical. Conrad watched Emmons throughout.
"You treated her like an animal," Conrad observed at the end, "and I don't see any remorse from you."
The board's decision to grant or deny parole would come in six to eight weeks, Conrad told him. As he was led out, the prisoner threw a resigned glance at his mother, sister and daughter in the audience.
Every Tuesday, the full seven-member Parole Board hears up to three parole requests from "lifers" such as Emmons, second-degree murderers eligible for parole after serving 15 years. First-degree murderers are never eligible for parole.
The stakes are especially high for lifer cases, given the public safety risks, the emotions and sometimes protests of victims' families, and the difficulty of re-entering society after many years in prison.
But most inmates are not serving life sentences. Ninety-seven percent come out eventually by parole or by serving out their full sentence. Conrad believes it is far better for all of them to come out under supervised parole than to leave prison with no services or monitoring at all.
Many hearings, multiple pressures
The Parole Board conducts 10,000 face-to-face parole hearings in a year. Every day, dozens of decisions are made to grant or deny parole — sometimes by just a single board member, in the case of county house of corrections inmates, or by a panel of three in state correctional institutions cases.
About 60 percent of parole requests are granted, according to the Parole Board. Not one is an easy decision.
The pressures on the board come from all directions. Prisoners' rights advocates say not enough inmates are paroled, while victims' rights groups and tough-on-crime advocates want to keep them locked up as long as possible.
And at a time of severe budget crisis in the state, all agencies are pressed to cut costs. Less incarceration and more parole saves money — but it only works if funds are available for the services and monitoring that help keep parolees on a crime-free, productive track.
On a mission
All of this falls on the chairman's desk. Gov. Deval Patrick appointed Conrad, 48, to the board in 2007. Two years later, Conrad was chairman,  ultimately responsible for the activities of some 240 Parole Board employees across the state and the ongoing supervision of about 8,000 parolees.