Job fair showcases summer jobs, urges political action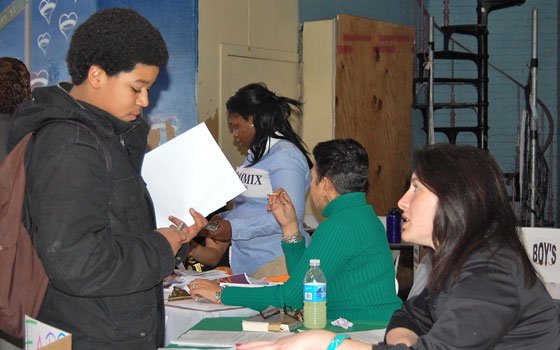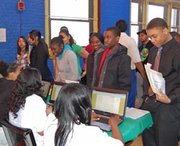 It was a school holiday, and one of the first warm days of spring, but hundreds of Boston teens chose to come inside the Bird Street Community Center in Dorchester's Upham's Corner to introduce themselves to employers and find out about summer job opportunities.
Last week's job fair featured 32 organizations offering summer positions in office work, landscaping, health care, childcare and youth leadership. It was organized by GOTCHA (Get Off The Corner Hanging Around), a collaborative of Roxbury and Dorchester community groups.
As scores of young people lined up at her table, Emily Beck, a program administrator for workforce development at Beth Israel Deaconess Medical Center (BIDMC), asked the same question over and over again: "Do you want to work at a hospital?"
Most said yes. Beck explained the types of jobs the hospital might have for them, such as maintenance help, office work and "customer assistance," which means helping patients and visitors. BIDMC plans to hire 30 to 35 teens this summer, she said.
"I'd like to work with patients," said Tevin Lattime, almost 15. He added his name and e-mail address to Beck's list before setting off to browse the other tables set up around the gymnasium floor.
Most of the other employers were community organizations that work to train teens in advocacy or neighborhood improvement. At the Dudley Neighborhood Initiative's table, Jennifer Fernandes described the opportunities for summer workers to learn how to use tools, develop communication skills and take trips to recycling facilities.
"We are what we make our community," said Fernandes, 16, who has moved up to a junior supervisor role since starting her job last summer, "We want people to see we care about it."
While job-seekers scrutinized position descriptions and filled out forms, other teens were actually on the job.
Derrica Stone, 16, employed by the Dorchester Bay Economic Development Corporation (DBEDC) Youth Force, wore a costume of a large cell phone with a painted message: "We CALL for youth jobs!"
Daiquan Bradford worked the room, urging his peers to fill out postcards calling for action on restoring jobs funding to send to their state representatives.
"You just gotta have that confidence," said Bradford, 16, flashing a smile that could definitely be an asset in a future political or sales career. He works for the Youth Force and will likely continue that job in the summer.
Bradford's co-worker Troy Brandon, 17, also wielding postcards, said he is not too worried about a summer job — his mind is on fall, when he'll start studies at Northeastern University.
Dan Gelbtuch, Youth Force coordinator at DBEDC, said the political advocacy was a crucial part of the event. If cuts to the FY10 state budget are not reversed, he said, this could be the "worst summer in recent history" for teen employment.
State Sen. Sonia Chang-Diaz stopped by to show support, as did Boston City Councilor Chuck Turner. Both expressed concern with the funding cuts.
"It's going to be a fight," said Chang-Diaz, who was honored by the Youth Force and GOTCHA last summer for working to restore $4 million in statewide summer job funding. "We were able to win restorations in funding last year, but it's going to be a real fight this year."
Turner said given the dismal economy and the proposed closings of some branch libraries and some Boston Centers for Youth and Families (BCYF) community centers, it's especially important to fund jobs for teens.
"We have to help kids get a sense of economic strength," he said. "We have to break the mentality that they don't have a future to look forward to."
Turner and Gelbtuch both praised the work of Boston City Councilor-At-Large Felix G. Arroyo, who has been heavily involved with the youth jobs effort.
Even as organizers and employers were folding up the tables, a sizable crowd of teens lingered, completing forms listing their top three choices of workplace. Turner noted this as a clear sign of how much local kids want jobs.
"Anybody who says our youth don't care, should be here to see this," he asserted.
GOTCHA is a partnership of five organizations: Bird Street Community Center, Bowdoin Street Health Center, Dorchester Bay EDC, Dudley Street Neighborhood Initiative, and The City School. The five organizations hire youth workers with the mission of fostering youth leadership and strengthening the economic power of communities and families.