The Lion King Opening Night
3/3/2010, 4:50 a.m.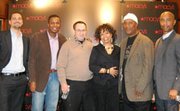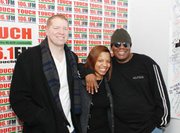 The Lion King Opening Night 
The Lion King is spectacular!!! It was a packed opening night at Boston's Opera House and the air was buzzing with excitement and anticipation from the moment the lights went down to the triumphant finale of Simba returning to his home in the African pridelands.  The Lion King truly captivated the audience from beginning to end, especially on this night, since it was children's night — and school vacation week.
Everything worked in harmony from the detailed and imaginative colors of the costumes and backdrops to the props, staging and the music. It was amazing to see how the gifted cast of dancers and performers "gracefully brought Simba, Scar, Rafiki, Nahla and all the jungle animals to life, utilizing puppetry techniques."
Celebrating opening night were WCVB-TV reporter Rhondella Richardson and Chronicle host Shayna Seymour; Channel 5's EyeOpener Anchor, Bianca de la Garza, styleboston host Tony Corey and MIX 104.1's Fast Freddy.  The Lion King is a must see! It's running until March 21st.
It was on to the next…with the afterparty at Fleming's Prime Steakhouse where we mingled and dined with the cast. I had the opportunity to chat with Elijah Johnson, one of the two child actors portraying "Young Simba" and his family. This young boy has a promising career ahead of him. Elijah is very wise beyond his years and ever-so polite and focused on his career, at the age of eleven. Absolutely amazing.  You could tell his mama raised him right!
"The Evolution of Comedy" at Macy's, Herald Square, NY
Even though New York City was hit hard with its third or maybe it was their fourth snowstorm in weeks, I still managed to make a quick trip down to the city for the presentation of the Showtime documentary, "The Evolution of Comedy," a collaboration between The Roxbury Film Festival (RFF), the Color of Film Collaborative and Macy's in Herald Square.  The one-night event was the brainchild of Lisa Simmons, founder of the Color of Film Collaborative and Jacklyn Burgo, Macy's Special Events Manager, Northeast Region, in celebration of Black History Month.
Clips from the documentary "Why We Laugh: Black Comedians on Black Comedy" were screened that evening followed by a panel discussion moderated by Quincy Newell, the director and producer of "Why We Laugh." The panelists included: Andy Engel, Director of New Talent from Comix comedy club in NY; Rick Younger who is one-fourth of the segment "Guys Tell All" on NBC's "Today Show;" comedienne Robin Montague; cultural critic Smokey D. Fontaine and legendary comedian and writer, Paul Mooney, who strutted into Macy's wearing his off-white (I think, rabbit) "man-fur."
It was definitely a sight to be seen and I have to say, if you haven't seen this documentary, add it to your list. It's not only funny but also very poignant and timely.  
Shout-outs to long-time friend D.L. Hughley who sent me some love over New York's airwaves on his KISS-FM morning show "The D.L. Hughley Morning Show!"