Arts
6/30/2010, 8:05 a.m.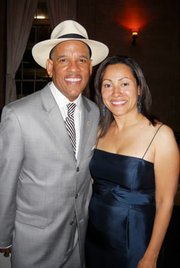 Whittier Tea at the Four Seasons Hotel
What could be better than having tea at the Four Seasons Hotel? On this day, I could think of nothing else that I wanted to do. I attended afternoon tea at the fab Four Seasons in support of Women for Whittier, an organization of women committed to advancing innovative ways to address and resolve issues related to women and children's health.  
The bi-annual event was organized by Colette Phillips Communications and opening remarks were given by Frederica M. Williams, president and CEO of Whittier Street Health Center. The keynote speaker was Latoyia Edwards, reporter for New England Cable News, and her energy and exuberance radiated throughout the room during her speech. She was so excited to be there and she brought her beautiful daughter, Nina, to enjoy the Earl Grey Tea freshly made scones, raspberry jam and cucumber and smoked salmon sandwiches.
Edwards' heartfelt and long-standing support of Whittier stems from growing up in the Whittier Street neighborhood and seeing first-hand all the good work they have done and continue to offer the community day in and day out.  The tea was a great opportunity to learn more about the accomplishments of Whittier Street Health Center. I found out that the health center will be moving to a new 80,000 square foot state-of-the art facility on Sept. 14.
Vapiano Grand Opening
Bonsai meets Italian? That was my first impression when I attended the private opening of Vapiano, a new Italian restaurant in the Transportation Building in the Theatre District.
There were bonsai trees in the center of what looked like picnic seating throughout the restaurant and there was even a real California olive tree right in the middle of the Italian eatery. Totally unexpected! The menu is affordable and the food looks very appetizing, from the roasted ciabatta bread, tomatoes, garlic, basil and olive oil antipasti to the classic Salame pizza, Bolognese pasta and ham and arugula paninis. The sauces, pasta and ravioli are made daily at the restaurant in what they call "the glass pasta factory."
Vapiano began in Germany and is now opening in the United States, with Boston being its first Northeast locale. I so wanted to indulge in the food, but I was on my way to the sneak screening of the action/comedy caper "Knight and Day" — my third event of the evening no less — and had to leave with only a bite of a mozzarella, basil and tomato kebob to tide me over. 
Knight and Day Sneak Screening
The chemistry between Tom Cruise and Cameron Diaz sizzled on screen. It was so palpable and you could tell they had a great time filming the movie. "Knight and Day" is fun, smart and takes you on a thrill ride around the world from Boston to New York to Barcelona, Spain. It made me want to go around the world on my own adventure. It has tons of action from motorcycle and car chases to the running of the bulls in Spain. That's what summer flicks are supposed to be … fun, lighthearted and entertaining!